UN General Assembly: Leaders of Seychelles, Comoros pledge to share experiences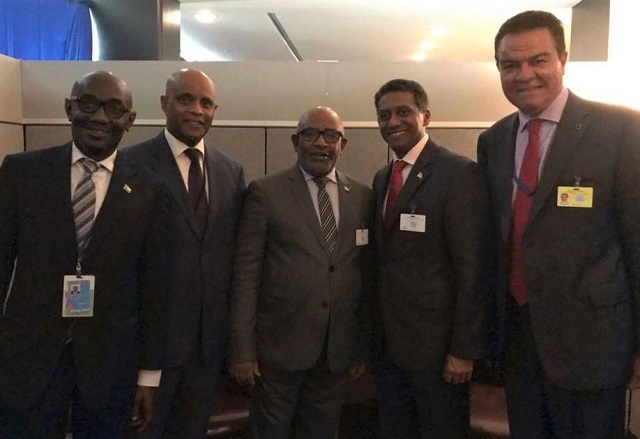 President Faure has invited the President of the Comoros (centre) for a visit to Seychelles next year. (State House) 
Send to Kindle
(Seychelles News Agency) - Seychelles is willing to share its experiences and lessons learnt in the spirit of African solidarity with the Comoros, said President Danny Faure to his Comorian counterpart in a meeting on the sidelines of United Nations General Assembly in New York.
The Seychelles' head of state also invited the president of the Comoros, Azali Assoumani, for a visit to the island nation in the western Indian Ocean next year, State House said Wednesday.
Assoumani is keen for his country to benefit from Seychelles' development experiences in tourism, fisheries, health, housing, education and environment.
The Comorian president is also interested in how Seychelles succeeded in obtaining conventional and innovative sources of external financing for sustainable development. Other areas of interest are the Blue Economy, addressing climate change, as well as mobilising domestic funds.
Faure also met with the prime minister of Cabo Verde, José Ulisses de Pina Correia e Silva, who described the two island states as like-minded countries regarding their approach to sustainable development and strengthening democracy. The discussion focused on cooperation in arts and culture and renewable energy, among other sectors.
President Faure also held discussions with the Prime Minister of Cabo Verde. (State House) Photo License: CC-BY
Earlier on Tuesday, Faure attended the opening of the United Nations General Assembly's annual General Debate which this year has attracted close to 130 world leaders. The Seychelles' head of state will address the General Assembly on Thursday.Cabo Verde is also interested in Seychelles' experiences in tourism, building development infrastructure and the Blue Economy, and addressing climate change.
Faure was present at the launching of an international initiative by the president of France, Emmanuel Macron, for a "Global Pact for the Environment." The initiative is the first international legally binding document that gathers and harmonises all environmental laws in a single document. Currently, international environmental laws are fragmented in different conventions and declarations.
The day ended with a reception for heads of state and government hosted by Donald Trump in his capacity as the president of the country that hosts the United Nations.
Diplomacy
» Be a reporter: Write and send your article
» Subscribe for news alert