Say cheese? A conservationist in Seychelles de-sands turtles for ID pictures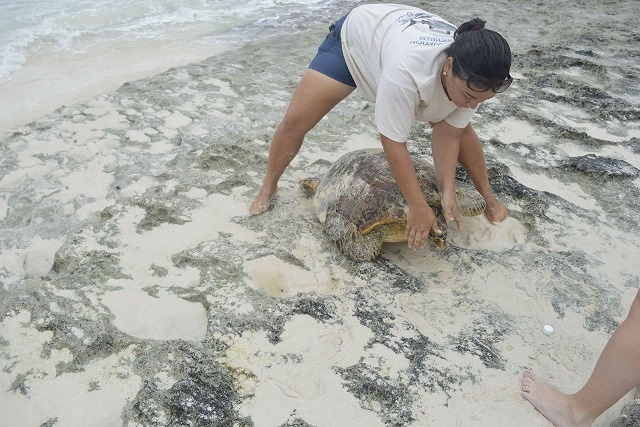 Photos of the turtles are taken and put through an identification software to know if it is a turtle she has seen before.(Marine Conservation Society Seychelles) 
Send to Kindle
(Seychelles News Agency) - Washing the sand off the face of a nesting turtle in order to get a clear, identifiable photo to be used by computer software is one of the ways a teacher-turned-conservationist is living her passion for marine conservation.
"Every time I see a nesting sea turtle, I have to have a bottle of water to wash the sand off its face. Then, I have to take pictures of its left and right side for identification purposes," said Vanessa Didon, the project coordinator of the Marine Conservation Society Seychelles.
Didon said that through photo identification software, she will know if it is a turtle she has seen before.
With the nesting season approaching, the Marine Conservation Society, a not-for-profit organisation, is setting up protected areas for hawksbill turtles on the main island of Mahe.
"This will be set up in the six main nesting beaches situated in the south of Mahe, starting from Grand Police, all the way to Intendance," said Didon.
She added that: "If a nest is found, its precise location is recorded using GPS, to monitor its status until the hatchlings appear after a two-month incubation period."
The hatchlings will emerge after 8 weeks of incubation. (Marine Conservation Society Seychelles) Photo License: All Rights Reserved
According to Didon, since 2011 the Conservation Society records show that approximately 200 female hawksbills sea turtles had come to nest.
Seychelles, an archipelago in the western Indian Ocean, is home to one of the world's largest populations of the hawksbill, which is classified as critically endangered by the International Union for the Conservation of Nature (IUCN). 
Sea turtles in the island nation are protected under the Wild Animals and Birds Protection Act and the penalty is up to two years in prison and a fine of up to $37,000.
Didon says that despite the strict laws, poaching is still a major concern because of the country's traditional appetite for turtle meat.
"In fact, with the nesting season approaching, we have recorded one turtle, which has been killed in the south region. Before, I knew they killed for their shell, but now they are being killed by people for consumption," Didon said.
The project coordinator of the Marine Conservation Society Seychelles added that females are more vulnerable and it is heart-sickening for her whenever she sees a carcass of the species lying on the sand. 
Didon hopes that the practice of killing this animal stop so that future generations can enjoy and embrace it.
Apart from human-related threats, other reasons nesting success are affected are eggs washed away by waves and steep crests and obstacles inhibiting the female's progress across the beaches to lay eggs. Once hatched, babies are favourite food for ghost crabs, birds and fish.
Didon said that another emerging threat is dogs frequenting beaches and digging up eggs from the nesting holes. 
The hawksbill breeds throughout Seychelles, mostly between mid-October and mid- January and Didon said that during monitoring, together with her colleagues they patrol the beaches where they know turtles might come to nest.
One of the turtles making its way up the beach. (Marine Conservation Society Seychelles) Photo License: All Rights Reserved
"Sometimes it's very apparent that the turtle has nested," she said. "You can see sand thrown around, but sometimes if you are not too sure, it's quite good to just feel the sand and if you feel loose sand, this gives you an indication that there is a nest there."
Sea turtles lay around 150-200 eggs depending on species and it takes around 2 to 3 hours. The hatchlings will emerge after 8 weeks of incubation.
Despite no longer being in a classroom, Didon says a big part of her job is still educating others about the plight of sea turtles and other local marine wildlife. During the off-season, she visits schools and hotels to host awareness programs and presentations. 
Conservation
» Be a reporter: Write and send your article
» Subscribe for news alert