South Africa's strict new rules for travelling with children could hamper travel plans for thousands
Johannesburg, South Africa and Victoria, Seychelles
|
June 22, 2014, Sunday @ 13:35 in
Business
»
TOURISM
|
By:
Hajira Amla
|
Views:
7327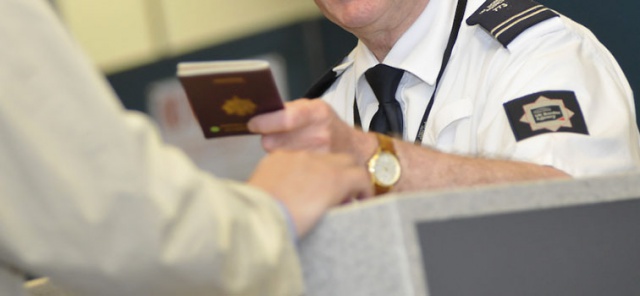 Passport control (Gatwick airport)
Send to Kindle
(Seychelles News Agency) South Africa has introduced a string of strict new immigration regulations, including restrictions on travelling in and out of South Africa with children in a bid to tackle child trafficking, but immigration and tourism experts say the new rules are likely to hurt tourism and negatively affect millions of migrants working in and contributing to the already-suffering economy of the large Southern African nation.
A travel advisory issued by the South African consulate to Seychelles and Mauritius states that anyone, irrespective of their nationality, that wishes to travel to South Africa with children must provide an unabridged birth certificate that states who the mother and father of the child is.
The consulate has urged parents of South African children to apply as soon as possible for their unabridged certificates, even if they do not have travel plans.
New regulations
According to the new regulations, if one or both of the parents are not accompanying the child, an affidavit from the absent parent or parents must be produced which gives permission for the child to travel.
In addition to this, certified copies of the passports or identity documents of both parents must be provided to South African immigration officials. Should a parent or guardian have sole legal guardianship of the travelling child, proof of this must be provided in the form of a certified copy of the court order granting guardianship.
The regulation, which was intended to come into effect on July 1, but has now been extended to October 1, 2014, has produced panic among South African parents with travel plans, who may face long waits to get their documentation in order. Currently, the South African Department of Home Affairs (DHA) takes an average of six to eight weeks to produce an unabridged birth certificate, but incidents of parents waiting over a year for the essential document are not isolated.
Airlines and travel agencies breathed a sigh of relief as the DHA announced the extension for the new regulations, however, the Board of Airline Representatives South Africa (BARSA) has said that a lack of communication from the department has left the industry entirely in the dark on how to implement and deal with them when they do come into effect.
"This could result in passengers being denied boarding, as there is a general rule that if passengers are refused entry into a country and need repatriation the cost is borne by the airline," said the CEO of BARSA, June Crawford.
Naturally, the uncertainty over whether birth certificates will be produced in time before the regulation comes into effect has led to stinging criticism of the DHA and its newly-appointed minister Malusi Gigaba, who said the measures were intended to "strengthen security elements" in South Africa. And although the deadline for implementation has been extended, the ministry seems to be adamant that the policy will go ahead unchanged.
A "heavy-handed" policy
The managing director of immigration practitioners Global Migration SA, Leon Isaacson, told SNA in an email interview that he believes it is likely that there will be much negotiation and many court cases before the regulations are accepted.
"No doubt many amendments will have to be made for the regulations to be workable and lawful," he said, adding that he believed that the policies were not properly thought through.
Isaacson said other countries have put systems in place to meet their international obligations to the anti-child trafficking agreements they are party to, but he called the South African policy "very heavy handed"
"It would have been better to implement it with fair notice to all affected parties," he explained.
"The immediate consequence has been that the travel industry has seen a short term impact on people who have already booked trips," he said. "Only political intervention at the highest level has seen this set aside until a later date.
"There are other problems with the rules around spouses and family members, the new permit requirements are, in many cases, completely unworkable and concessions will have to be made by Home Affairs to make them workable."
Attempts to reach the Department of Home Affairs for comment were unsuccessful at the time of publication.
South Africa's Business Day published a letter from their reader, Suhail Suleman, who described Home Affairs' ethos as a form of "collective punishment" for South African citizens.
"For South Africans, who must endure hours of queuing and up to a year to procure the required birth certificate… this is in effect a travel ban and there is little indication that measures have been put in place for fast processing of unabridged birth certificates. Extending the deadline to October merely delays the chaos caused by this change by three months, at which point they will either have to extend again or deal with thousands of outraged travellers," said Suleman.
South Africa is key market for Seychelles tourism
In 2013, a total of 13,212 South Africans travelled to the Seychelles, being in 6th place for travellers to the Indian Ocean islands, where a record 230,272 tourists visited last year. 
In the same year, 4,441 trips  were made by Seychellois tourists to South Africa, according to figures from the National Bureau of Statistics, as the two destinations are linked by direct flights on the Seychelles national carrier Air Seychelles. 
South Africa is the third most popular tourism destination for Seychellois travellers, with Dubai in first place (8,981) and Mauritius in second place (6,472).
A total of 32,774 short overseas trips were made by Seychelles citizens in 2013, in a population of 90,000 inhabitants.
Tourism
» Be a reporter: Write and send your article
» Subscribe for news alert