Teacher exchanges, Blue Economy discussed between Seychelles, Zambia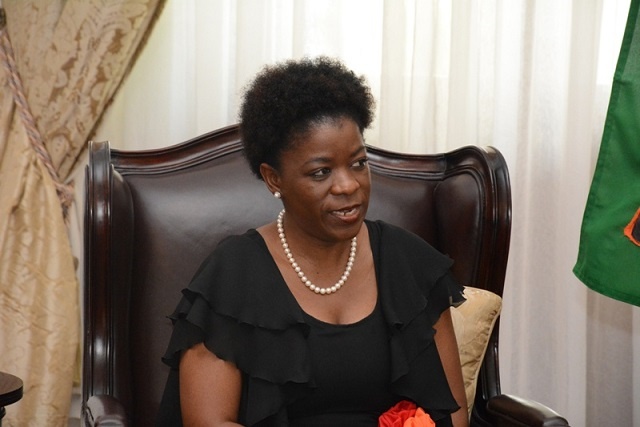 Brenda Muntemba is the new Zambian High Commissioner to Seychelles. (Jude Morel, Seychelles News Agency)
Send to Kindle
Potential teacher exchanges, peace and the Blue Economy are areas highlighted for cooperation by the newly accredited High Commissioner of Zambia to Seychelles.
Brenda Muntemba presented her credentials to Danny Faure, the president of Seychelles, at State House on Tuesday.
"We are looking into ways of how we can establish an exchange programme to see if we can have teachers coming from Zambia to Seychelles and have teachers coming from Seychelles to Zambia. The final detail will be discussed along the line," said Muntemba.
The new Zambian High Commissioner was accredited on Tuesday. (Jude Morel, Seychelles News Agency) Photo License: CC-BY
On the subject of peace, the new High Commissioner said that Seychelles is an island of peace and that "when you have peace, you don't keep it to yourself, you spread it."
Cooperation in tourism already exists between Seychelles and Zambia and the High Commissioner said that this is another area where both countries expect to strengthen ties. Tourism is the mainstay of the Seychelles' economy while it is the fourth pillar of the Zambian economy.
Education, peace and the Blue Economy are some of the areas for cooperation Muntemba discussed with President Danny Faure. (Jude Morel, Seychelles News Agency) Photo License: CC-BY
The two countries signed a tourism agreement in 2013 to exchange, share ideas and best practices as well as challenges and opportunities faced within the industry. 
As Seychelles, a group of 115 islands in the western Indian Ocean, is a champion of the Blue Economy, the sector is another area where Muntemba said Zambia can benefit from.
"The island nation has made a lot of progress in terms of promoting the bigger concept of the blue economy. We want to be guided by this immense knowledge that Seychelles have in this domain," she said.  
During her stay, Muntemba is going to visit the Sir James Mancham International Centre for Peace Studies and Diplomacy based at the University of Seychelles at Anse Royale in the south of the main island, Mahe. The Centre was officially launched in August, with the aim of becoming an international hub for the study of peace and diplomacy.
Seychelles and Zambia established diplomatic relations in 1998.
The newly accredited high commissioner will serve a term of five years and will be based in Nairobi, Kenya. 
Diplomacy
» Be a reporter: Write and send your article
» Subscribe for news alert