Diversity garden highlighting Seychelles-India links inaugurated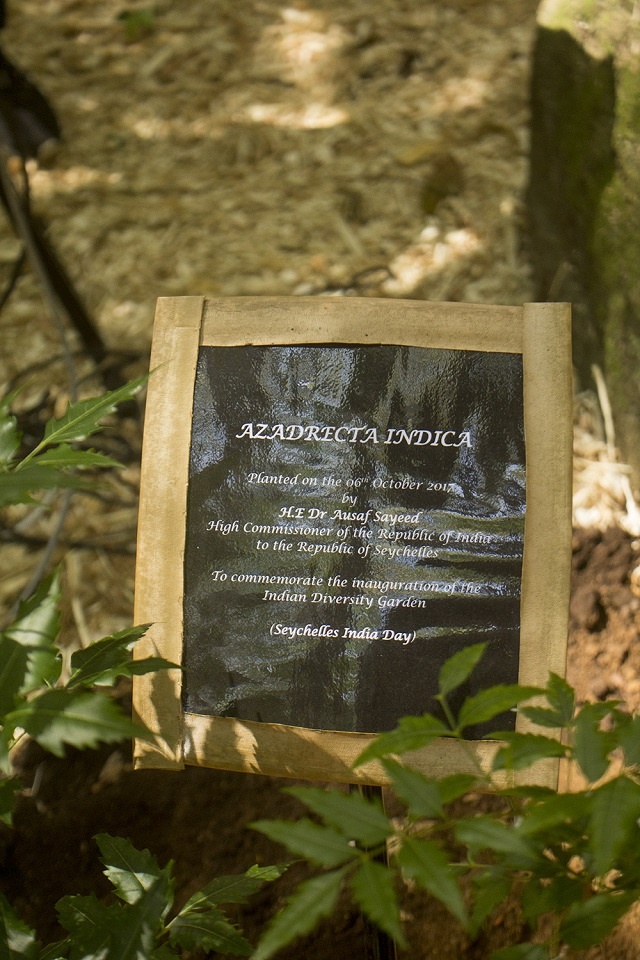 The garden was inaugurated on Friday as part of the activities organised to commemorate Seychelles-India Day. (Salifa Karapetyan, Seychelles News Agency) 
Send to Kindle
(Seychelles News Agency) - An Indian diversity garden that symbolises the cultural links between Seychelles and India is a new feature that will open soon at the Seychelles Botanical Gardens.
The garden was inaugurated on Friday as part of the activities organised to commemorate Seychelles-India Day organised by the Indian Association in Seychelles.
The garden will feature plants and different artefacts from the states in India with direct links and connections to people in Seychelles, said the chief executive of the National Botanical Gardens Foundation, Raymond Brioche.
Seychelles, an archipelago in the western Indian Ocean, has direct links with places in India like Malabar, Bombay and Bangalore.
The Seychelles-India relationship started from the first group of settlers to the islands.
The first people from India who came to Seychelles brought with them their way of life and more importantly their culture, which has had a big influence on Seychelles, notably in the cuisine, added Brioche.
The Indian High Commissioner Ausaf Sayeed said that the diversity garden will be a place where plants from India can be seen.
"India is positioned 9th in the world in terms of biodiversity richness and ecosystems. We have ten designated areas rich in conservation, and the Himalayas are one such rich area," said Sayeed.
He added that "India is also a leader in terms of growing spices and medicinal plants."
Several medicinal plants from India can be found on the islands growing in the wild and Sayeed said that "these plants have medicinal virtues and can be used for chronic diseases such as diabetes and high blood pressure. But these plants are not being utilised at all here."
In welcoming such a partnership, Brioche said, "The plants at the garden will be endemic species and not invasive. And what better place than here at the Botanical gardens Seychelles' living green heritage."
"Here we have a bit of everywhere in the world, valuable and priceless plants," he added.
Guests at the inauguration of the Indian Diversity Garden, which included the Vice President Vincent Meriton, ministers and members of the Indian Association of Seychelles gave the area its first plants.
Guests at the inauguration gave the garden its first plants. (Salifa Karapetyan, Seychelles News Agency) Photo License: CC-BY
Neem trees originating from India as well as 'bwa sagay' and 'bwa sandal' are all medicinal plants endemic to the Seychelles.
The Indian diversity garden is the third international one after the Thai garden opened in 2014 and the Guangzhou garden opened last year.
The Seychelles National Botanical Garden is over a century old and located not far from the centre of the capital, Victoria, on the main island of Mahe.
The garden, which covers more than 10 hectares of land, is home to a collection of plants. These include palms, flowers, spices and fruit trees, from countries in the Indian Ocean – from South East Asia to Eastern Africa. It is also home to colonies of bats and a group of giant tortoises. 
General
» Be a reporter: Write and send your article
» Subscribe for news alert