Trump tears into Iran, leaves nuclear deal hanging
Washington, United States
|
October 14, 2017, Saturday @ 07:56 in
World
»
GENERAL
|
By:
AFP
|
Views:
1953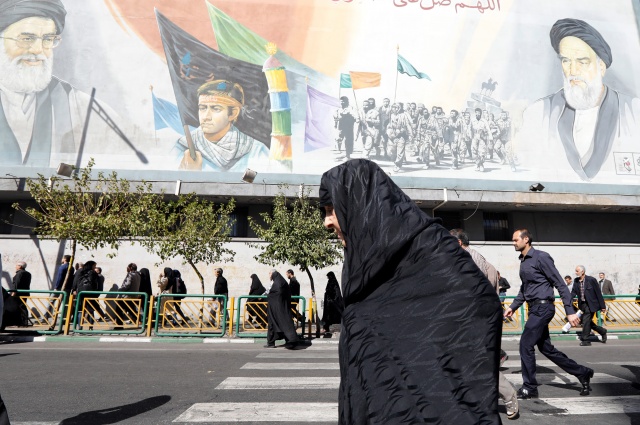 An Iranian woman walks past pictures of Iranian supreme leader Ayatollah Ali Khamenei (top L) and of late Iranian supreme leader Ayatollah Ruhollah Khomeini (top R), following the weekly Friday prayer in Tehran on October 13, 2017. President Donald Trump will unveil a more aggressive strategy to check Iran's growing power, but will stop short of withdrawing from a landmark nuclear deal or declaring the powerful Islamic Revolutionary Guard Corps a terrorist organization. During a White House speech at 12:45 pm (1645 GMT), Trump is expected to declare the 2015 agreement -- which curbed Iran's nuclear program in return for sanctions relief -- is no longer in the US national interest. (STR / afp)
Send to Kindle
(AFP) - President Donald Trump reignited the decades-old US feud with Iran on Friday, vowing to confront the "fanatical regime" and throwing a landmark international nuclear agreement into doubt.
In a speech pocked with grievances dating to the 1979 Islamic Revolution, Trump railed against the "Iranian dictatorship, its sponsorship of terrorism, and its continuing aggression in the Middle East and all around the world."
And he threatened to rip up the 2015 agreement curbing Iran's nuclear program, saying it had failed to address Iranian subversion in its region and its illegal missile program.
"It is under continuous review and our participation can be canceled by me, as president, at any time," he warned.
And he later lashed out at countries that have stood by the agreement, appearing to accuse them of placing trade profits ahead of security.
"Many people talking, with much agreement, on my Iran speech today. Participants in the deal are making lots of money on trade with Iran!" he wrote on Twitter.
Trump's bellicose message brought an instant rebuke from Iranian President Hassan Rouhani, who -- also leaning heavily on past injustices -- declared the United States was "more than ever against the Iranian people."
But behind Trump's hardline rhetoric was a subtle but significant presidential climbdown.
He stopped short of nixing a deal negotiated with European allies, China and Russia to lift sanctions against Tehran in return for Iranian curbs on uranium enrichment.
Instead he took a procedural step of "decertifying" the agreement, leaving its fate in the hands of the Republican-controlled Congress.
- 'The worst deal' -
The US president said he supports efforts in Congress to work on new measures to address these threats without immediately torpedoing the broader deal.
"However, in the event we are not able to reach a solution working with Congress and our allies, then the agreement will be terminated," Trump said, in a televised address from the Diplomatic Room of the White House.
European leaders slapped back that notion, saying the agreement was not America's alone.
In a cautious but unmistakable rebuke, the leaders of Britain, France and Germany said the deal remained in "our shared national security interest."
"We encourage the US administration and Congress to consider the implications to the security of the US and its allies before taking any steps that might undermine" the deal.
French President Emmanuel Macron later said he was considering visiting Iran after speaking by phone with his Iranian counterpart.
The International Campaign to Abolish Nuclear Weapons, which was awarded this year's Nobel Peace Prize also denounced the move, saying it makes proliferation more likely.
Trump backed away from designating Iran's powerful Revolutionary Guards Corps as a terror group, a move that would have triggered slew of sanctions and almost certain Iranian retribution.
Apart from running swaths of Iran's economy and Iran's ballistic missile program, the Revolutionary Guards are accused of guiding proxy forces across the region, from Hezbollah in Lebanon, to the Huthis in Yemen and Shiite militias in Iraq and Syria.
"We have considered that there are particular risks and complexities to designating an entire army, so to speak, of a country," Tillerson said.
- 'Snapping back' sanctions -
Instead, the US Treasury said it had taken action against the Islamic Revolutionary Guards under a 2001 executive order to hit sources of terror funding and added four companies that allegedly support the group to its sanctions list.
Trump had repeatedly pledged to overturn one of his predecessor Barack Obama's crowning foreign policy achievements, deriding it as "the worst deal" and one agreed to out of "weakness."
The agreement stalled Iran's nuclear program and marginally thawed relations between Iran and what Tehran dubs the "Great Satan," but opponents, and even some supporters, say it also prevented efforts to challenge Iranian influence across the Middle East.
Since coming to office, Trump had faced intense lobbying from international allies and much of his own national security team, who argue the nuclear deal should remain in place.
Both the US government and UN nuclear inspectors say Iran is meeting the technical requirements of its side of the bargain, dramatically curtailing its nuclear program in exchange for sanctions relief.
John Kerry, the former secretary of state who negotiated the agreement, accused Trump of "creating an international crisis" and called on the US Congress to stand in the president's way.
The legislature must now decide whether to end the nuclear accord by "snapping back" sanctions, which Iran demanded be lifted in exchange for limiting uranium enrichment.
Proposals by Republican Senators Tom Cotton and Bob Corker to introduce "trigger points" for new sanctions and extend sanctions beyond a pre-agreed deadline have spooked allies, who believe it could breach the accord.
But it remains unclear if their proposals can garner the 60 votes need to pass the Senate.
© Agence France-Presse
General
» Be a reporter: Write and send your article
» Subscribe for news alert