Campaign to push tap over bottled water meets resistance in Seychelles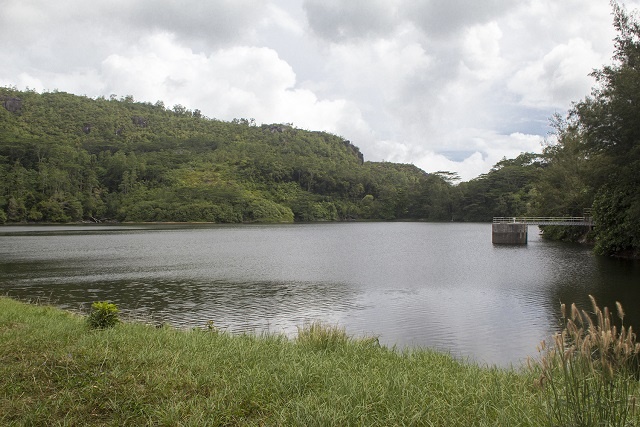 La Gogue dam -- Seychelles main water reservoir -- built in 1969. (Salifa Karapetyan, Seychelles News Agency)
Send to Kindle
(Seychelles News Agency) - A campaign encouraging residents of Seychelles to drink tap water instead of bottled water has been met with questions about municipal water quality in the island nation. 
The campaign, which has been on Nature Seychelles' Facebook page since August, had an environmental aim - to reduce the number of plastic bottles being disposed of in nature.
"In Seychelles, despite the bottles being made of PET and potentially recyclable, a lot is simply thrown away," said Nirmal Jivan Shah, the chief executive of Nature Seychelles.
He added that "bottled water is not cheap and with the high cost of living in Seychelles, buying bottled water adds a huge amount to an individual's or household's budget."
The aim of the campaign is to reduce the number of plastic bottles being disposed of in the environment. (Seychelles News Agency) Photo License: CC-BY
The Public Utilities Corporation (PUC), the sole provider of treated water in the country, charges $0.57 (7.80SCR) per unit whereas a litre of bottled water sells at a minimum price of $0.7 (SCR10).
Shah feels that Public Utilities Corporation and the Ministry of Environment have a huge amount of awareness-raising and advocacy work to do to persuade people of the quality of the treated water.
"I think we are proud to say that much of the population of Seychelles has access to potable water, a constitutional right and a sustainable development goal, yet if people are suspicious of the integrity of this water and  believe it is not "potable", there is something grossly wrong somewhere," said Shah.
Tap water in the 115-island archipelago in the western Indian Ocean is being described as unsafe for direct consumption by those who commented on the Facebook post.
"There are times the colour of the water is yellow or orange, and in cases of heavy rains, it is translucent in colour. PUC water is also 'hard water' with high levels of Ca2+ (Calcium ions) which eventually results in kidney stones," one person said. 
Although the population of Seychelles has access to potable water, tap water is seen as unsafe for direct consumption according to the posts on Facebook. (Seychelles News Agency) Photo License: CC-BY
Other comments expressed concerns with the level of chlorine used in water treatment and the desalinated water being supplied to consumers.
Another suggested that "PUC should publish results of water testing per district on a weekly basis" which will facilitate the purchase of water filters that can be used at home.
SNA sent questions relating to the post to the chief executive of PUC, Philippe Morin whose only comment was "our water is better than any water."
Many contributors to the post said that they prefer drinking bottled water as they feel that the quality of the water is safer. However, not everyone agreed to this, saying bottled water is exposed to the sun for hours before being delivered to retail outlets. This causes the water to react to the plastic, becoming a health hazard to the public.
Speaking to SNA Serge Durup, owner of Eau Val Riche- a mineral water bottling company, said, "it is the distributor who exposes the water to the sun if the extent exposure is taking place. Companies that produce bottled water must make sure that their distributors are covering the products when they are delivering them to shops."
Durup said he works with only one distributor and made sure from the very beginning that he had the necessary equipment including a covered pickup truck. "He is not allowed to leave my factory without covering the water bottles," he added.
Durup said he does not think that that bottles exposed to the sun are a major issue in Seychelles and that "for the sun to have an effect on the water, the bottles have to be extensively exposed for about four or five hours of direct exposure."
General
» Be a reporter: Write and send your article
» Subscribe for news alert