5 cool things to see in Seychelles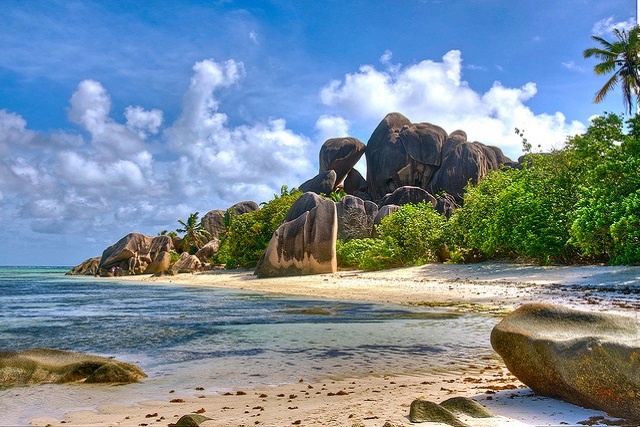 (Federico Robertazzi/flickr) Photo License: CC BY-NC-SA 2.0
Send to Kindle
(Seychelles News Agency) - Seychelles remains one of the most enchanting places to visit in the world. The archipelago in the western Indian Ocean is seen as a tropical paradise for visitors. Aside from the azure-coloured sea and powder white beaches, there other cool things to see in the island nation.
SNA gives you 5 cool things you can see in Seychelles
There are flying foxes
With a fox-like appearance the Seychelles fruit bat or Seychelles flying fox is found on the granitic islands of Seychelles. It is more common on Silhouette, the third largest granitic islands. No need to worry about getting close to them, they only feed on fruits.
See the world's biggest nut
The coco de mer -- the biggest nut in the world -- grows naturally on the second largest island of Praslin in the Vallee de Mai which is still a pristine forest and one of the Seychelles' world heritage sites. 
(Romano Laurence, Seychelles News Agency) Photo License: CC-BY
The second largest atoll in the world
The Aldabra atoll is one of the world's most wild and remote regions where you can see huge tortoises and black-tipped sharks. And you can have a dip in the lagoon so large it can fit the whole of the main island Mahe. As an added bonus it's another Seychelles' world heritage site.  
(Wkipedia) Photo License: CC-BY
A jellyfish on land? No! Simply a plant
As its name indicates, the plant has fruits with jellyfish-like shapes. It can be found at  four locations on Mahe, the main island and all going uphill -- Bernica, Mont Sebert, Mont Copolia and Mont Jasmin. Are you up for a climb?
(Christopher Kaiser-Bunbury) Photo License: CC-BY
Gazing at the sunset
Tired of the hustle and bustle of your daily life? Well, relax while watching the sunset possible all year round as long as the weather is fine. The best place to do it is in the north of Mahe, the main island, and in a few spots on the other islands. The popular beach of Beau Vallon gives you a vantage point -- plus there are various tourism establishments in the vicinity where you can quench your thirst afterwards.
(Seychelles Tourism Board) Photo License: CC-BY
Seychelles Buzz
» Be a reporter: Write and send your article
» Subscribe for news alert