House, Garden & Hospitality Expo builds bridges between Seychelles and Mauritius firms
Some 60 stands, 40 showcasing products from Mauritius in the first Seychelles House, Garden and Hospitality Expo (Joe Laurence, Seychelles News Agency)
Send to Kindle
(Seychelles News Agency) - Two months after over a hundred investors from the Seychelles and neighbouring Indian Ocean island of Mauritius shared business ideas through a business forum and 3 day trade fair, the desire to increase trade between the two sister islands is becoming more evident.
Some sixty stands, fourty of them showcasing products and services offered in Mauritius opened their doors to the public this morning at the NSC Hall, at Roche Caiman, only a few metres away from the Seychelles capital of Victoria.
The first Seychelles' House, Garden & Hospitality Exhibition, promises to be a useful forum allowing manufacturers of Seychelles and Mauritius to forge partnerships while displaying their products to the local clientele.
Seychelles' House, Garden & Hospitality Exhibition promoting Seychellois and Mauritian businesses helping then to gain clientele and forge partnerships (Joe Laurence, Seychelles News Agency) Photo License: Attribution
Amongst the many Mauritian based venture on display is "Teak World" a Mauritian owned company that is established in the Indonesian seaport of Semarang in northern Java, manufacturing solid wood furniture, mostly in teak for the bedroom, sitting room and outdoors.
Many visitors were drawn to another stand showing an interest in curtains made from raphia, wood and plastic terrace, verandah and balcony, displayed by Beekhun & Sons, based in Mauritius, which claims it is already supplying to Eden Island and several smaller clients.
Mediacom Ltd or Parabole Maurice, which already has a local agent, Satellite Electronic, is offering multi-channel television with a bouquet of some 100 channels in both English and French.  Among the news channels are Cable News Network (CNN) and France 24 (in both languages). There is also Discovery as well as music, sports, other entertainment and films.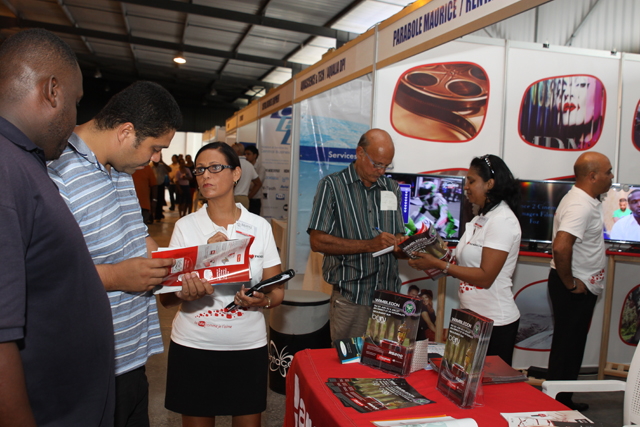 Many people stopped by the 'Parabole Maurice' Stand to inquire about the different channels on offer (Joe Laurence, Seychelles News Agency) Photo License: Attribution
Another Mauritian firm participating is 'Water Tech' that has been represented in Seychelles since 4 years and offers treatment of water for swimming pools and Spas, as well as processing of waste water and irrigation equipment.
Three manufacturers of water tanks, septic tanks and swimming pools, including the local company Aqua Glass, are also displaying their products.
School Children fascinated by the 'Water Tech' stand (Joe Laurence, Seychelles News Agency) Photo License: Attribution
The local entrepreneurs who have joined in this new initiative are showcasing from plant products to value added fish products.
"Early Bloom" attracted considerable attention, presumably because several bonsai are on display. Based at La Gogue, in the northern part of the main Seychelles island of Mahé, the venture, owned by Francis Loizeau specializes in cactus, orchids and pineapple flower which is supplied to public and private clients on demand.
"We are still conducting trials on bonsai, but the project should take about a year to produce them in any significant numbers," Loizeau told SNA.
A variety of flowers on display from Early Blooms flower garden at La Gogue (Joe Laurence, Seychelles News Agency) Photo License: Attribution
Another innovative local venture is by Bossy & Co, which recently started manufacturing value- added fish products on Praslin, the second most populated Seychelles island of Praslin.
The favourite so far is salted fish, which is vacuum seal packed. Some of their other products include are frozen fish, fish fingers and more recently fish burgers.
"We use only spices and no preservatives," said Jean-Paul Toulon, a company representative.
The packaging features a Raymond du Buisson painting of a traditional fishermen returning home from a day's fishing.
Salted and sundried fish from Seychelles (Joe Laurence, Seychelles News Agency) Photo License: Attribution
All these and more are what visitors to the four-day House, Garden & Hospitality Exhibition can experience.
Seychelles President James Michel who opened the exhibition also toured the stands talking to the businessmen.
The initiative was led by the Seychelles Chamber of Commerce and Industry (SCCI) in collaboration with the Small Enterprise Promotion Agency (SENPA).
Speaking at the opening of the event this morning SCCI Chairman Marco Francis said, 'Publi Promo', a Mauritian based company headed by Didier de Senneville and specializing in trade fairs and exhibitions agreed to contact various manufacturers in Mauritius who are interested in exporting to Seychelles and looking for partnerships there.
He said the exhibition will allow businessmen and other clients to know who's who in the house, garden and hospitality sectors.
"This event constitutes an important link between the business communities of the two island states," he said.
He told SNA that many of the Mauritian ventures are looking for partners in Seychelles and that this is an opportunity to be seized by young entrepreneurs.
"Nobody is taking any business from anyone. We all need somebody else to partner with."
 The House, Garden & Hospitality Exhibition will come to an end on Sunday June 29. 
President James Michel accompanied by SCCI Chairman Marco Francis and CEO of SENPA Penny Belmont touring the exhibition engaging with the businessmen (Joe Laurence, Seychelles News Agency) Photo License: Attribution
Investment
» Be a reporter: Write and send your article
» Subscribe for news alert