Seychelles' capital lights up in celebration of Christmas
Victoria has been decorated with colourful lights that make the town comes alive every night. (Patrick Joubert, Seychelles News Agency)
Send to Kindle
(Seychelles News Agency) - Like other countries in the world, Seychelles is gearing up for Christmas — one of the biggest celebrations for Christians.
As is customary every year, the island nation's capital Victoria has been decorated with colourful lights that make the town comes alive every night.
The locals once again are coming to town to witness for themselves, and SNA took the opportunity to see what they thought about this year's decoration.
Genevieve Folette said, "It's okay so far but I think we can do much better." She said that certain places haven't been decorated yet and look dull but all the same, she is going to take pictures.
"Previously I never took pictures but now I have a baby nephew and it's his first Christmas then I will definitely," said Folette.
Sheetra Didon told SNA that "it's quite nice. It's really bringing out the Christmas spirit as the town is full of people taking pictures everywhere. It's a great initiative and yes it has spiced up my Christmas mood."
For Fabien Valentin, decoration and lights should be put in lot more places in the capital.
"The whole of Victoria should be lightened up, more buildings and trees should be decorated with not only lights but decorative Christmas toys," he said.
SNA presents a series of pictures showing the decorations in the country's capital Victoria. (Patrick Joubert, Seychelles News Agency and Joe Laurence, Seychelles News Agency) Photo License: CC-BY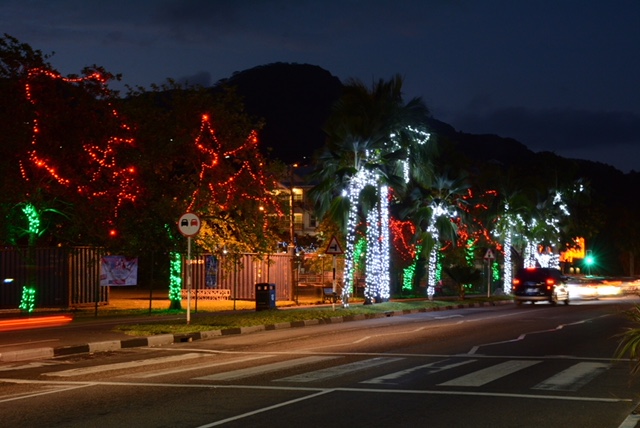 General
» Be a reporter: Write and send your article
» Subscribe for news alert