New recipe book teaches secrets of Seychelles' Creole seafood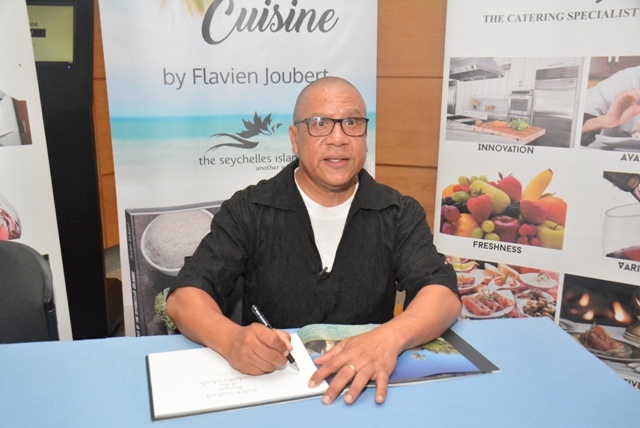 Fish & Seafood recipes of the Seychelles Islands' written by Flavien Joubert was launched last week. (Thomas Meriton)
Send to Kindle
(Seychelles News Agency) - A new recipe book by a Seychellois author teaches readers how to cook fish and seafood in the Seychelles' Creole cuisine style.  
The book entitled 'Fish & Seafood recipes of the Seychelles Islands' is written by Flavien Joubert and has been published by a UK-based company, Rila Publications. It was launched last Tuesday in a ceremony at Eden Bleu.
According to Joubert, the recipe book is for seafood lovers and is designed to encourage sustainable cooking.
"We are using the same type of ingredients and fish in our day-to-day cooking and we are thus helping to put pressure on our resources. Not only will this book introduce us to new Creole delicacies, but guide us to new resources that can be consumed," said Joubert. 
The author said that the main element of most Seychellois dishes is fresh fish cooked in a variety of ways -- grilled, roasted, fried, curried or even made into salads -- and the new book can help you cook all of them. 
Joubert said the recipe book is for seafood lovers and is designed to encourage sustainable cooking.(Thomas Meriton) Photo License: CC-BY
The Seychellois Creole cuisine has been influenced by the Indian, Chinese African, French and English, and Joubert says brings out "the most important feature of this cuisine is a careful blending of spices."
Joubert, who is the Principal of the Seychelles Tourism Academy, spent 11 years on Praslin working with the five-star Coco de Mer and Black Parrot Suites Hotel, where he wrote his first cocktail book. 
Speaking at the launch ceremony, the chief executive of the Seychelles Tourism Board (STB), Sherin Francis, said that: "It is very fitting that someone of his calibre should come forward to make such worthy contribution to the Seychelles culinary scene."
Francis said that the island nation is not only renowned for its sun and sea, but also for its food, a great asset for the tourism industry, the top contributor to the economy the archipelago in the western Indian Ocean.
The chief executive is confident that the 32 recipes in the book will become useful in promoting the islands through their unforgettable cuisine.
Arts & Culture
» Be a reporter: Write and send your article
» Subscribe for news alert