Consumers in Seychelles refunded nearly $ 100,000 because of faulty work, products
Most of the cases that companies or individuals had to reimburse consumers related to the services provided in the construction sector. (Rajib Ghosh/flickr) Photo License: CC-BY 2.0 
Send to Kindle
(Seychelles News Agency) - Consumers in Seychelles have been reimbursed $97,000 (SCR 1.3 million) after many cases of unsatisfactory services and faulty products provided by companies or individuals were resolved. 
The chief executive of the Fair Trading Commission (FTC), Francis Lebon, said that 280 complaints were lodged before the commission and the "majority of the complaints have been resolved and consumers are being reimbursed." 
Lebon said that half of the complaints were based on faulty product bought by consumers while the rest were based on unsatisfactory services provided by individuals or companies.
The chief executive added that most of the cases did not need to go before the board of commissioners, while 22 of the cases needed the board's attention to reach a resolution.
To date around $42,000 (SCR572,000) have been reimbursed to consumers for cases resolved without the board's attention, while $55,000 (SCR750,000) was paid to consumers for cases referred to the board. 
Lebon said that most of the cases that companies or individuals had to reimburse consumers related to the services provided in the construction sector.
"We have 90 percent of the cases in the services sector coming from the construction sector. The cases do not relate to contractors only, but also draftsman," he said. 
The Fair Trading Commission is tasked with evaluating and investigating complaints lodged by consumers in relation to the supply of services. An investigation is conducted to establish whether or not there has been a breach of the Consumer Protection Act of 2010.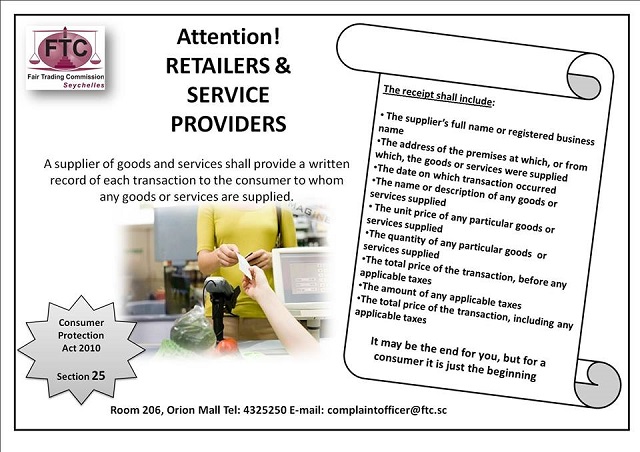 One of the educational materials published by the Commission. (Fair Trading Commission, Facebook) Photo License: CC-BY
When lodging complaints, consumers have stronger cases when they are able to provide documentary evidence such as contracts, quotation, receipts, and planning documents. 
The chief executive said that thanks to the good partnership that exists between the Seychelles Planning Authority, the Seychelles Licensing Authority, the Commission was able to resolve most of the cases.
"At a certain point we had to threaten to revoke their licenses if they didn't comply with the final decision of the board," added Lebon. Only the Seychelles Licensing Authority can revoke licenses and the Commission can make recommendations. 
Lebon said that companies and individuals should always think about fair trade when they are selling a service or product to someone, while consumers should always look for goods and services with value for money. 
The chief executive said that since he took up his new role in July, he has put emphasis on consumer education programmes and intensified the Commission's presence on the market through inspection.
On his expectations for the coming year, Lebon said, "We want an FTC which is more performing in 2018 and one that will regain the public's trust and confidence."  
General
» Be a reporter: Write and send your article
» Subscribe for news alert