19 years in the works, Seychellois woman publishes Creole-French-English dictionary
Guillieaux spent 19 years working on the dictionary, which is aimed at promoting the Creole language. (Rassin Vannier, Seychelles News Agency)
Send to Kindle
(Seychelles News Agency) - Translating Creole into English or French is now a bit easier with the launch of the first trilingual dictionary in Seychelles. 
The dictionary, the work of Belgium-born Seychellois national Colette Guillieaux, has been published in two volumes. It is now on sale at the Antigone shop in Seychelles' capital Victoria at $55.80 (SCR 750) and online at www.amazon.co.uk.
The 81-year-old Guillieaux spent 19 years working on the dictionary, which is aimed at promoting the Creole language.
"Creole is based on imagery and creations. The language is very rich and today we don't have the right to say it's not rich. This is why is I fought for it for 19 years," said the author. 
Guillieaux first came to Seychelles, an archipelago in the western Indian Ocean,  in 1978 and immediately the young psychologist fell in love with the island life and its beauty. She started her first job as a teacher in the island nation in 1982, at the school for the exceptional child which had just opened.
She was tasked with breaking the barriers that hinder the learning of children who cannot attend normal school.
As Guillieaux always wanting to be a writer, she decided to write some early childhood books to help her students.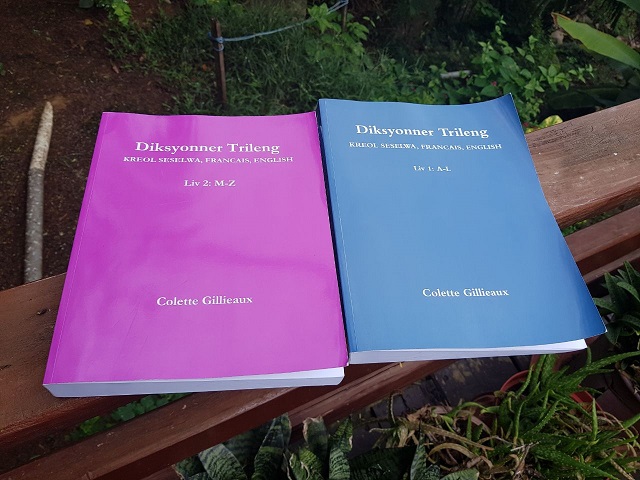 The trilingual dictionary has been published in two volumes. (Rassin Vannier, Seychelles News Agency) Photo License: CC-BY
"Here in Seychelles, those children needed help. So I wrote books like 'Titi sa pti Katiti'and 'Tenten sa pti Maten' so they could learn to read. This was my chance to write," said the author.
Guillieaux started working on the trilingual dictionary with her close friend Danielle de St. Jorre. But after her death in 1997 her work came to a halt. With the support of colleagues, she started to work on the second volume of the dictionary.
It was finally Adrian Skerrett, a British businessman, author and conservationist who has been residing in Seychelles since 1980, who made her wish come true.
"One night in July (2017) my neighbour Skerrett came to my house while looking for his cat. He asked me then if I was still writing. I told him, yes but it is sealed in a drawer. He asked if he could see it so I gave him a copy," said Guillieaux.
She added that "one month later, he came back with a copy wishing to publish it for me, free of charge."
Aside from being on sale, 50 copies will also be given to state schools to assist in students learning Creole and improve teacher's knowledge.
The special adviser in the Ministry of Education, Merida Delcy, has thanked Guillieaux for the donation.
"We are all very happy that the dictionary project has been realised. I am sure that the teachers and students will put the dictionaries to good use," says Delcy.
Guillieaux says that the dictionary will be her last publication and she is satisfied that she has been able to complete the work she started with her late friend Danielle de St. Jorre who was also the Seychelles' Minister for Foreign Affairs.
General
» Be a reporter: Write and send your article
» Subscribe for news alert