Visitor arrivals to Seychelles sets new record in 2017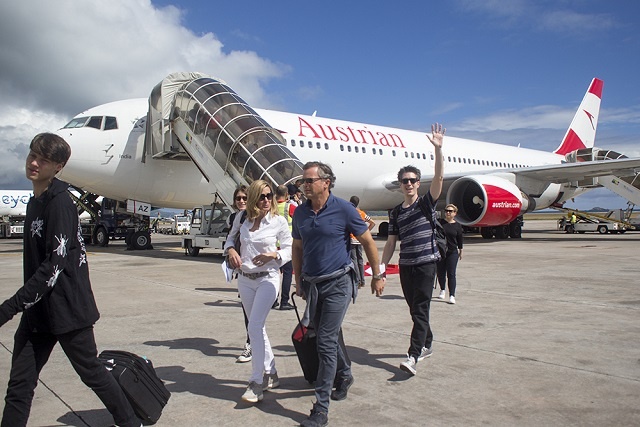 The arrival of Austrian Airlines in October 2017 became the third direct non-stop air service between Europe and Seychelles after Paris and Frankfurt.
Send to Kindle
(Seychelles News Agency) - Visitor arrivals into the country for 2017 surpassed predictions made by the Seychelles Tourism Board, setting a new record of nearly 350,000 visitors.
An increased number of flights helped set the new record. Germany was at the top of the list with more than 50,000 visitors.
The chief executive of the board, Sherin Francis, told SNA that at the start of 2017, her team had predicted a five to eight percent increase in the number of foreigners visiting Seychelles.
Latest figures from the National Bureau of Statistics showed that 349,861 visitors set foot in Seychelles in 2017. This represents a 15 percent increase compared to 2016, which recorded 303,177 visitors.
"I believe that it is a very encouraging performance because it will definitely encourage all of us - not just the tourism board but our partners as well - to keep working hard and make 2018 an even better year," said Francis.
She credited this increase in arrivals to a combination of factors.
"The increase in airlift that we had in 2017 provided us with more seats and the airlines themselves helped us in terms of marketing," said Francis.
Last year, Seychelles - a 115-island archipelago in the western Indian Ocean - saw the arrival of Austrian Airlines, which became the third direct non-stop air service between Europe and Seychelles after Paris and Frankfurt.
Another contributing factor mentioned by the chief executive was the collaboration between the board and their partners.
"Collaboration between STB and our partners placed us in a better position to organise more activities and projects. The synergy of 2017 helped us not to only maintain our position but also to grow," said Francis.
The new record was set despite a drop off in visitor arrivals from China, the market with the largest drop in 2017. A total of 11,710 visitors from China entered the country compared to 14,194 in 2016, a drop of 18 percent. 
China was the market with the largest drop in 2017. (Patrick Joubert) Photo License: CC-BY
Last year's leading markets were Germany, France and the United Arab Emirates.
During the Seychelles Tourism Board's end-of-year marketing meeting, the board's director for Germany, Edith Hunzinger, said that "even if Air Seychelles has stopped its flights to Düsseldorf, I haven't noticed any difference in the market's figures as Condor has reintroduced it winter flights."
Germany led statistics with 50,476 visitors and Hunzinger predicted a 10 percent increase for 2018. Overall visitor arrivals from Europe rose by 15 percent from last year's figures. All the European markets, except France, recorded a positive increase.
SNA spoke to Barbara Fock-Tave owner of Surfers Cove, a newly opened self-catering apartment at Bel Ombre in the northwestern side of Mahe, the main island.
Fock-Tave said that since her establishment opened in May 2017 the demands have surpassed her expectations with full occupancy especially with clients from Germany.
"We have had bookings for all four apartments. Most of our clients are from Germany and a few from China, Russia, United Arabs Emirates and Turkey. " Fock-Tave said that overall 2017 has been a very good year for her a newcomer in the hospitality industry.
"Traditionally, we always see that it is the traditional markets that contribute to the biggest picture, but this year, the growth is across all of our markets - not just the European markets," said Francis.
For 2018, the tourism board is predicting an increase of between an eight to ten percent increase in visitor arrivals to the island nation which depends largely on tourism, the top pillar of its economy.   
Tourism
» Be a reporter: Write and send your article
» Subscribe for news alert