Seychelles will be first African country to host open water swimming competition 'Fédération Internationale de Natation'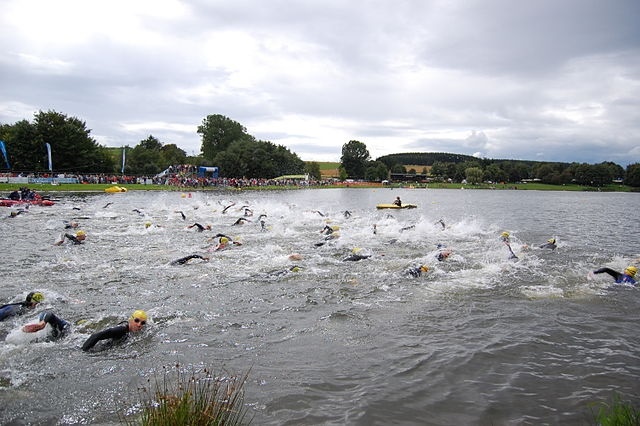 The open water swimming competition is a series of 10 km races held annually since 2007. (Steven Fruitsmaak, Wikipedia) CC BY-SA 3.0
Send to Kindle
(Seychelles News Agency) - Seychelles in May will become the first African country to host the Fédération Internationale de Natation's open water swimming competition. The event will be held at Beau Vallon beach, a popular beach on the northern side of the main island of Mahe.
Maurice Loustau-Lalanne, Minister of Tourism, Civil Aviation, Ports, and Marine, whose ministry is co-organizing the event, said the event will bring added revenue. 
"With its calm waters, it is considered as a place to swim throughout the year," he said, explaining that Beau Vallon has several hotels close to the beach, therefore, attracting more onlookers.
The "Fédération Internationale de Natation" was founded in London in 1908, during the Olympic Games, and one of its objectives is to promote and encourage the development of aquatics around the world. 
The open water swimming competition is a series of 10 km races in outdoor water bodies like oceans and lakes held annually since 2007. Points are awarded for each race in the series, with the points being added together for an overall winner
Elite swimmers from different countries will be in Seychelles for the event alongside Seychellois swimmers. 
"The event bodes well with the Seychelles touristic image and at the same time we want Seychellois swimmers to benefit from a sport that we have had a lot of success in," said Loustau-Lalanne.
From now on it is expected that Seychelles, a group of 115 islands in the western Indian Ocean, will host a series of the competition every year for the next four years.
Participants at the event will have to follow strict international standards: swimmers must wear a non-transparent swimwear along with the cap and goggles which should not display offensive language or symbols.
A member of the local steering committee, David Vidot, who is also the chair of the Seychelles Swimming Association said the cost to organise the event will amount to almost $358, 000 (SCR 5 million).
"We want the event to have a social impact on the community as we urge school children to take part. There will be a shorter distance for those who are not capable of swimming longer distance."
Vidot is also encouraging members of the public to come and enjoy the competition adding that "designated areas will be marked for sitting facilities for spectators."  Registration details and fees for the "Fédération Internationale de Natation"- Open Water World Cup Series will be announced later.
The winner of the last competition was Italian long distance swimming specialist Simone Ruffini.  
Sport
» Be a reporter: Write and send your article
» Subscribe for news alert