'Blue Lady' and 'Mimi 2' winners of SSFC's Heineken slam and Billfish release challenge
Send to Kindle
(Seychelles News Agency) - Anglers who spent over 12 hours at sea onboard 'Blue Lady' may have gone home very tired this Saturday evening but surely extremely happy after emerging as the winner of today's Heineken Slam tournament organised by the Seychelles Sports Fishing Club (SSFC).
Claiming a total of 555.68 points Blue Lady has won the tournament's Star Prize of a fish pendant made of white gold, amongst other prizes.
Team Blue Lady winner of Heineken Slam 2014 (Joe Laurence, Seychelles News Agency) Photo License: Attribution
For the Heineken slam which according to SSFC has always proved to be one of the most challenging tournaments on the sports fishing calendar, all teams were in search of the coveted Slam which consists of catching a wahoo, yellowfin tuna and dorado.
This year's Heineken Slam was even more challenging as the participating teams were also competing in the first he first ever Seychelles Billfish Release Challenge organized by SSFC and the World Wide Fund for Nature (WWF).
'Mimi 2' managed to win the inaugural Billfish Release trophy after having tagged and released a sailfish.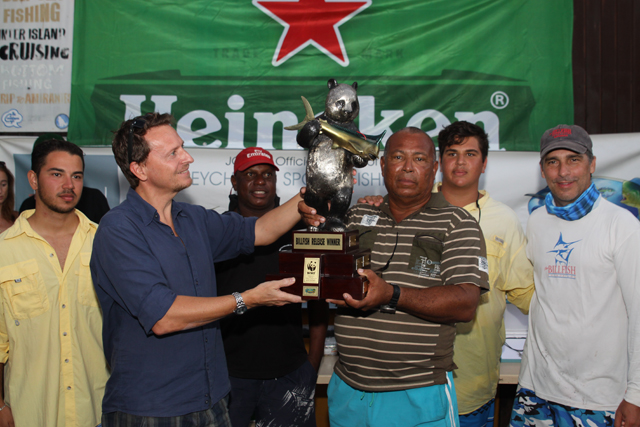 Team members of Mimi 2 with their Billfish Release challenge trophy (Joe Laurence, Seychelles News Agency) Photo License: Attribution
To qualify to be the Billfish Release Winner, the teams had to "tag and release" all billfish (such as blue marlins, sailfish and swordfish) caught in the tournament and present a video of the tag and release for verification to capture their points.
Ten boats registered for the tournament, departing early morning (midnight) local time at the marine charter in the Seychelles capital of Victoria  with instructions to be back by 5.00pm (local time)
Only one team did not make it back on time and was disqualified.
SSFC Secretary, Grant Heyer told SNA they were satisfied overall with the outcome of the fourth Heineken Slam.
Last year, 'Team Special K' returned to Marine Charter with the only Slam and was the SSFC Heineken Slam champion while 'Team Blue Moon' was Runner-Up. 
SNA Presents a few photos of the teams coming in with their catch at the Marine Charter this afternoon by (Joe Laurence, Seychelles News Agency) Photo License: Attribution
Sport
» Be a reporter: Write and send your article
» Subscribe for news alert