Project brings faraway Aldabra Atoll to visitors on Seychelles' main island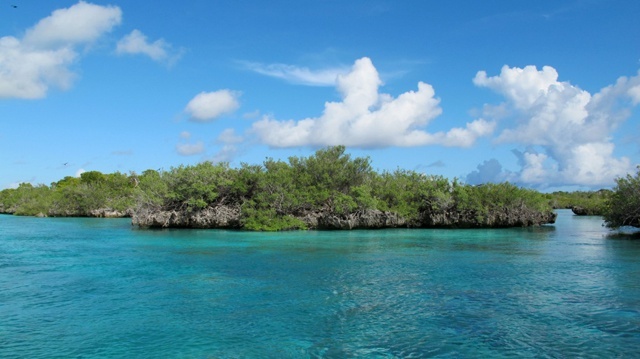 The Aldabra House will allow people the chance to experience Aldabra in an interactive and immersive way.(Seychelles News Agency)
Send to Kindle
(Seychelles News Agency) - A project that will let visitors experience the natural wonders of Aldabra Atoll is moving into its final design stages for submission to the local planning authority.
Dubbed 'Aldabra House', the project will be located on the eastern coast of Mahe, the main island, within the lagoon at Roche Caiman, located between the reclaimed Eden Island and Providence. 
Aldabra - one of the world's largest atolls - is a UNESCO World Heritage Site in Seychelles, a group of islands in the western Indian Ocean. It is home to a population of endemic giant Aldabra tortoises.
People will have the chance to experience Aldabra in an interactive and immersive way. Aldabra House will also highlight global environmental issues, contextualizing them locally.
The project coordinator, Christina Quanz, told SNA that 'Aldabra House' aims to inspire everyone with the natural wonders of Aldabra Atoll and engage Seychellois and global citizenry towards making lifestyle changes for a better future for all.
Expected to open in 2020, 'Aldabra House' has been raised to a project of national importance after it was approved by the government.
"Aldabra is the flagship of Seychelles internationally acclaimed conservation efforts. However, it has always been lacking an appropriate platform to showcase the work and research of international importance," said Quanz.
She added that the remote access visitor centre is designed to become this platform. In addition, it will provide for an active interaction of conservation, research, community, history, arts, education and outreach for people from all walks of life.
Visitors to the centre will be able to experience Aldabra and its wildlife with the help of multimedia technologies. 
"Emphasis will also be put on the underwater world and visitors will have the chance to virtually dive under the sea and soar like a bird over Aldabra," said Quanz.
The shallow lagoon in the centre of the atoll teeming with black-tipped sharks. (Rassin Vannier, Seychelles News Agency) Photo License: CC-BY
According to the Seychelles Islands Foundation's (SIF) Newsletter, "a 2-day workshop was held with the exhibition designers in the UK to discuss and develop the exhibition scheme design."
"The workshop ended in a meeting with Marshmallow Laser Feast, a company that develops state of the art virtual realities and augmented realities. Thrilling possibilities are being explored to include such stunning experiences into the Aldabra exhibition."
The centre will also contain a café, souvenir shop, conference space, education room and temporary exhibitions. SIF is also planning for its head office to be in the new building and it will contain a small lab and library.
SIF is partnering with British architectural firm Marks Barfield to ensure a highly attractive exhibition experience. Marks Barfield is well-known for the mark they have left on the London skyline with their design of the London Eye, a 135-metre high giant Ferris wheel.
The Global Environment Facility (GEF), the UN Development Programme (UNDP) and individual scientists are also providing the scientific background and backbone to the exhibition.
General
» Be a reporter: Write and send your article
» Subscribe for news alert