Seychelles among 200 countries planting trees to counter climate change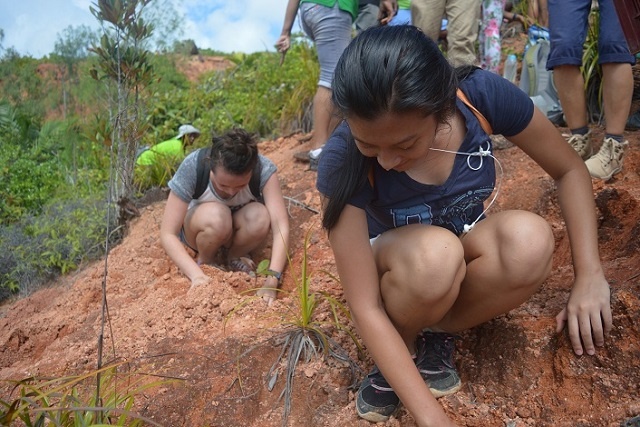 Participants of the initiative to plant 200 endemic and indigenous plants on Praslin in March 2016. (Seychelles News Agency)
Send to Kindle
(Seychelles News Agency) - Seychelles is among 200 countries taking part in a new tree planting project as a way to counter climate development. The initiative of Rotary International will see the planting of endemic, fruit and ornamental trees beginning in February.
The new District Governor for Rotary International, Manoj Vaghjee, met with President Danny Faure recently to discuss the project.
"Climate change is a big and global problem and there is a lot that is being done to adapt to climate change. One such way is to plant trees. We have discussed the project with the president as this is something we want to do in partnership with both the government and the private sector," Vaghjee said.
Vaghjee said this is a project that all rotary clubs in the world will undertake this year. The club has started the discussion with the authorities to finalise all details of the project which is being financed by Rotary International.
"Once all the consultations are done, we hope we can start the planting activities in February. This project has benefits for environment conservation and climate change as this country is very advanced in environmental issues."
"With global warming and production of carbon dioxide, there is a need for the world to go green by planting more trees. We have also the issue of erosion, by planting trees we will not be only preventing soil erosion but we are also mitigating the impacts of climate."
Vaghjee said that he hopes that once the planting is done these areas can be named after the clubs. The district governor adds that the planting can be done in open places as well as along streets.
Over the years Seychelles – a group of islands in the western Indian Ocean – has undertaken several tree planting activities as a way to combat climate change as well as restoration of mountain areas and to prevent erosion, especially in the coastal region.
The initiative is designed to create a network of forest conservation programmes throughout the 53 nations of the Commonwealth. (Seychelles News Agency) Photo License: CC-BY
These were done in partnership with local, regional and international groups as well as with workplace, schools and other institutions.
Only last year the island nation joined the Queen's Commonwealth Canopy Initiative where 20,000 trees are expected to be planted over the next two years. The initiative is designed to create a network of forest conservation programmes throughout the 53 nations of the Commonwealth.
In June 2012, a campaign to plant 20,000 trees was initiated by the former president James Michel. The campaign ended in December 2013 where the last 100 trees were planted on La Digue - the third-most populated island of Seychelles.
Other past initiatives included one done in partnership with Reunion – a French department in the Indian Ocean – through CIRAD, a French research centre working with developing countries to tackle international agricultural and development issues.
Through this initiative a nursery for indigenous plants was developed on Curieuse island - a national park close to Praslin – the island nation second most important island.
Curieuse island is managed by the Seychelles National Parks Authority. The chief executive of the authority told SNA that they welcome tree planting initiatives. Adding that each year the authority targets to plant 20,000 trees. " We normally plant trees that have a commercial value such as Mahogany as well as those that are endemic and indigenous," said Flavien Joubert.
Joubert said that tree planting is part of their conservation efforts as well as to rehabilitate areas affected by erosion. "Curieuse is an example where we need reforestation as there is erosion in some mountainous areas. So a lot of these activities are to plant where erosion is a threat."
For the tree plantings, the authority likes to partner with other organisations to raise awareness on the need for conservation.
Isabelle Ravinia responsible for awareness at the authority said one key partner is the schools. "To commemorate National Protected Areas day observed locally on the January 31st, the authority partnered with school children for a tree planting."
Ravinia said "300 endemic plants, known locally Latanier plat where planted at San Soucis. This activity was done with school children from the Perseverance Primary School."
Rotary is a worldwide organization of more than 1.2 million businesses, professionals, and community leaders. There are over 32,000 Rotary clubs in more than 200 countries and geographical areas. The clubs are not affiliated with any religion or political parties and offer voluntary service and humanitarian support.
Seychelles is part of District 9220 along with five other countries: Mauritius, Reunion, Mayotte, Comoros, and Djibouti. There are two Rotary Clubs in Seychelles, the Victoria and Coco de Mer Rotary Clubs.  
Conservation
» Be a reporter: Write and send your article
» Subscribe for news alert