With visitor numbers rising, ministry seeks more guides for tourists in Seychelles
Seychelles is a booming tourist business and according to the National Bureau of Statistics 349,861 visitors set foot in Seychelles in 2017.(Air Seychelles)
Send to Kindle
(Seychelles News Agency) - With the increasing number of visitors coming to Seychelles to explore the beauty of the island nation, there is more demand for tour guides to provide information on the natural and cultural heritage.
To ensure that people venturing into the tour guiding business can do it in a professional manner, the Ministry of Tourism started a short basic course last year. The course is also one of the most important prerequisites for new applicants wishing to become licenced guides.
The three-day course covers a lot of aspects, said Diana Quatre, the director of human resource development in the Ministry of Tourism.
Quatre said that prospective guides are given the basic knowledge, skills and attitudes needed when conducting tours of the island. They also must learn the geography and history of Seychelles. The course ends with a practical bus tour.
Seychelles is a booming tourist business and according to the National Bureau of Statistics 349,861 visitors set foot in Seychelles in 2017. This represents a 15 percent increase compared to 2016, which recorded 303,177 visitors.  For the year 2015, 275,000 visitors came to Seychelles.  
Twenty-eight prospective tour guides completed the first course for the year recently which was organised at the Seychelles Tourism Academy at La Misere.
The tour guides who completed a three-day course recently. (Seychelles Nation) Photo License: CC-BY
SNA spoke to some of the newly trained guides.
Dereck Bonte, 40, has for the last ten years been working with 'Loisir Évasion Organisation', a French company offering guided tours to clients visiting Seychelles, an archipelago in the western Indian Ocean.
Bonte said, "The course has polished what I already had. It has helped me mostly on how to interact with clients, what can be talked about and what cannot and how to remain discrete and objective."
Bonte, who is planning to open his own tour guiding business this year, told SNA that the services he is offering include taking care of the client from arrival in Seychelles until they depart. 
"Compared to bigger tour operators we take fewer clients giving them much more attention, more flexibility so that they can get a true Seychelles experience. We are the extra sauce topping the marketing of Seychelles' beaches and lifestyle," he added.
One couple -- Geralda and James Payet -- has since last year started their new business 'Heritage and Cultural Education Services'  that does not necessarily offer tours but provides activities showcasing the cultural life and heritage of Seychelles.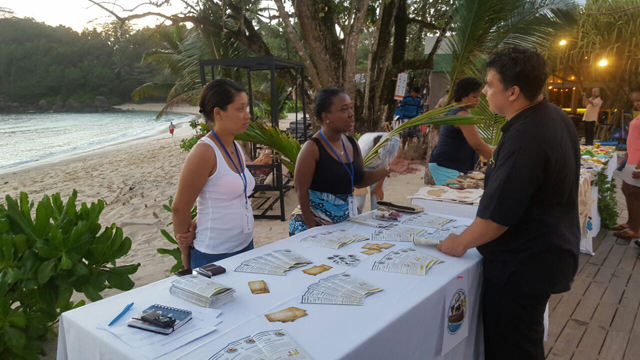 Heritage and Cultural Education Services' are already providing services promoting the cultural heritage of Seychelles (Heritage and Cultural Education Services) Photo License: CC-BY
"Our services are unique. We offer clients culinary classes, authentic Seychellois cuisine cooked by an elderly. They learn our traditional dances and games and about our heritage sites.  Our services are mostly practical, involving them in the activities," she explains some of the things she offers," said Gerald Payet.
She said that attending the course will allow her to now add tour guiding to her services as it will be an advantage.
"We already had customer service skills but now with the certificate, our clients can trust us even more. We learned so much. It has helped me to be more confident in approaching bigger hotels," said Geralda Payet.
This year's course also included a presentation by the Seychelles Port Authority to cater for operators when there is a cruise ship in port.  
The Principal Secretary for Tourism Anne Lafortune said that more training will be organised this year to cater for increased demand for such a course from prospective tour guides. Dates will be communicated to the public.
Tourism
» Be a reporter: Write and send your article
» Subscribe for news alert