Indian Ocean is a bridge between Indonesia, Seychelles, special envoy says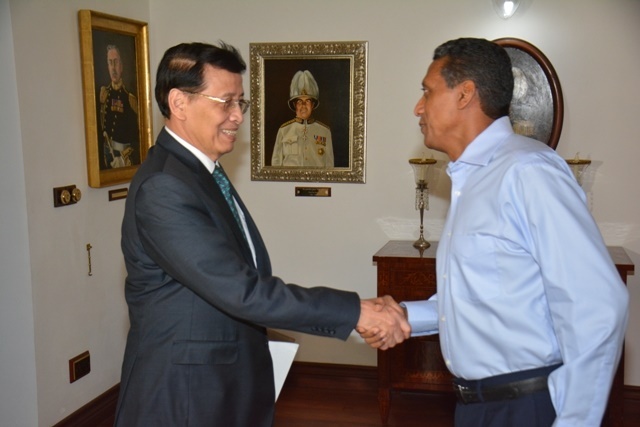 Hassan Wirajuda, the special envoy, paid a courtesy call to President Danny Faure on Monday. (Joena Meme) 
Send to Kindle
(Seychelles News Agency) - Increasing maritime security, capacity building and developing the construction sector of Seychelles are areas of cooperation the Indonesian Special Envoy discussed with the island nation's president.
Hassan Wirajuda, the special envoy, paid a courtesy call to President Danny Faure and Vice-President Vincent Meriton at State House, Victoria on Monday.
During discussions, the head of state of Seychelles highlighted the ongoing solidarity and excellent relations that have existed between the two countries resulting in a strong partnership. 

"The founders of your country have helped push Africa to where we are today. You contribute towards peace by providing your men in uniform, who have sacrificed their lives and created the type of peace and stability that Africa wants," Faure said in the meeting.
President Faure highlighted the ongoing solidarity and excellent relations that have existed between the two countries resulting in the meeting with Wirajuda. (Joena Meme) Photo License: CC-BY
Wirajuda told the press that "both your president and vice president are expecting us to work closely together on the issue of drugs." 
The special envoy said that Indonesia is also a target of drug smuggling and "in the last months, our authority confiscated 1.6 tonnes of drugs being smuggled from countries north to us."
He outlined that equally important to preventing drug smuggling is the process of rehabilitation. This is an area that Seychelles' government is interested in.
"We need to do is to see the Indian Ocean not as an ocean that separates us but rather as a bridge to bring us closer," said Wirajuda.
Seychelles has an Exclusive Economic Zone (EEZ) of 1.37 million square kilometres which makes surveillance difficult.
"Your vice president mentioned the difficulties to patrol the huge maritime space in the south and we can cooperate by sharing of experience and best practices," said Wirajuda.
Indonesia is ready to provide technical training to Seychellois in the artisanal business sector.
"We are also talking about small things that would directly benefit the ordinary people," said the special envoy.
Helping with construction of infrastructure in the 115-island nation of the western Indian Ocean is another topic that was discussed. Wirajuda said that Indonesia might join in the construction sector of Seychelles, including housing projects.
The technicalities will be discussed by representatives from both sides at a later date.
Wirajuda also invited Seychelles to participate in the first Indonesia-Africa forum to be held between April 10 and 11 in Bali. He said the platform will be a good opportunity for local ministers and officers to meet with their counterparts.
The two-day forum seeks to explore various economic opportunities, to intensify technical cooperation, and to boost active partnership between Indonesia and African countries.
Another area of cooperation outlined during the courtesy call was collaboration in the fishing industry, including in aquaculture.  
Diplomacy
» Be a reporter: Write and send your article
» Subscribe for news alert