Women's Day Interview: Seychelles' struggling families need more help
Edwina Adrienne works with couples, married or not to assist them to better manage and resolve conflicts and difficulties that may arise.(Salifa Karapetyan) 
Send to Kindle
(Seychelles News Agency) - As the world celebrates the achievements of women on March 8th, International Women's Day, SNA met with Edwina Adrienne at her home at Hermitage on the outskirts of Victoria, the capital city of Seychelles. Adrienne spent 65 years of her life as an educator, shaping young people for the world of work through career guidance and supporting couples to raise solid families.
Now 85, the woman who started career guidance in the island nation said that she has no plans to stop supporting Seychellois families.
SNA: Tell us a little bit about your background and childhood.
EA: I was born in 1933 and spent a happy childhood in the central district of Mont Buxton. My dad was a shoemaker and worked part time with the Roman Catholic Church taking care of housekeeping. My mother stayed at home.  I say happy because I was always surrounded by people. I was one of the first students to get a scholarship to pursue further studies at the Saint Joseph Convent. I was 11 years old. After my secondary education, I trained to be a teacher.
At 20 years old and working as a teacher, my father passed away. He was only 41 years old. Even though my dad died over sixty years ago, the event still affects me emotionally. As my mother did not work, I found myself taking care of my mother and siblings - the youngest being only three months old. With a salary of $13 per month, I had to give extra tuition to make ends meet. These times were tough and challenging. Four years later I married Alois Adrienne – a hairdresser, and together we had five children. One of my sons is a catholic priest - Father Lonnie Adrienne in charge of the Saint Michael Parish at Anse Aux Pins. We worked hard and after 10 years of marriage, we were living in our own house, made from bricks which we made ourselves.
One of Edwina Adrienne's sons,Father Lonnie Adrienne, is a Catholic priest in charge of the Saint Michael Parish at Anse Aux Pins.(Roman Catholic Church archives) Photo License: CC-BY 
SNA: How was teaching back then?
EA: I was among a first group to be trained as the British launched a first teacher training programme at what is known today as National House. My first job was at the Modern School the first non-paying secondary school on the island. I spent 18 years with the school. After that, I spent another four years at the Saint Agnes School. I have lost count of how many well-known Government officials whom I have taught over the years, and so many teachers as well. I am happy to see they are doing well and contributing to the Society.
SNA: Career guidance was the next step, tell us how you became involved?
EA: I became a youth employment officer after I left the teaching profession. I must admit that my background in education helped me a lot. I started helping young people to find work, these involved work placements. A visiting consultant from the United Kingdom told me about career guidance which was something I had never heard of before but which I was doing. I then went for a course in the United Kingdom and when I came back I set up the careers guidance unit and trained over 30 teachers. So career guidance started with me and at that time we worked closely with the employment ministry.
I also initiated the first apprenticeship programme where students could learn masonry, carpentry and mechanical amongst others.  I was also involved with what was known back then as the Centre for Skills Development - where young people could work part time ad study at the same time. I left for a short stint in the tourism industry where I worked for three years in human resources at Reef Hotel and Berjaya Hotel. I retired in 1994.
SNA: When did you start to work for the promotion of families?
EA: In 1997 I was involved in the preparation of couples for married life in the Catholic Church. After a while, we – me and the late Clifford Cetoupe – started to ponder on what happens to the couples once they are married, who assists them? So we started to work around this idea, with the support of the church. The Association for the Promotion of Solid Human Family (APSHF) was founded later. Our main aim is to work with couples, married or not to assist them to better manage and resolve conflicts and difficulties that may arise. We also help couples take their responsibilities vis-à-vis their children.  We give couples the life skills, the parenting skills and life values that would enable them to give the right guidance to their children.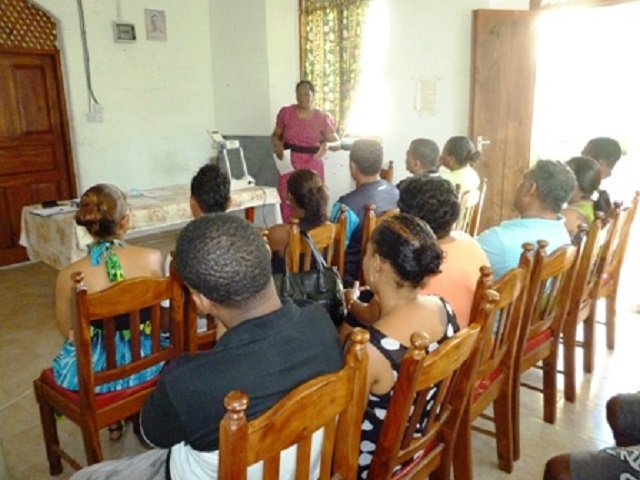 One of the APSHF activities on Praslin. (Seychelles Nation) Photo License: CC-BY 
SNA: How would you compare the families of days gone by and those of today?
EA: Currently our families face many challenges.  And I feel that even though a lot is being done to help the Seychellois family, the root cause is not being dealt with. I think society needs to tackle these challenges at the source. Additionally, more resources are needed to help save our families – the pillar of the Seychellois society. Parent education is crucial. As a not for profit organisation, we are doing our bit. We work closely with the newly created ministry for family affairs but there are so much more to be done?
SNA: Even though you are in your 80s you do not plan to stop yet. What are your plans for the future?
EA: With support from missionaries from the Democratic Republic of Congo we started a programme for the parents and young people. It is called Education for Life – a holistic programme to assist individuals to develop fully - body, soul, emotion, affection, relationship, sexuality. This is an important programme for parents as they need to understand their children and interact with them better. We started these in some classes in some schools, but now we want to expand the programme. We want to train Seychellois to be facilitators as well life coaches. Our next plan is to have the training so that this programme can be implemented in all schools as well as in our community. If there are volunteers out there who would be interested in getting trained in this I would advise them to contact our office at Salle d'Oeuvres Building in Victoria.
SNA: After all these years, what will you consider your greatest achievements?
EA: I will say it is the counselling work which I am doing for 38 years. Only this morning someone came here and I could not turn them away. And during all this time I would say it is the work I have done with men so that they can play their role to the fullest in their families.
The Interview
» Be a reporter: Write and send your article
» Subscribe for news alert