5 Seychellois women helping lead the island nation's government
(Seychelles Nation) 
Send to Kindle
(Seychelles News Agency) - The world celebrates International Women's Day on Thursday, a day dedicated to celebrating women and their social, political, cultural, and economic achievements.
Every year more women in Seychelles step forward into leadership roles, and this week SNA brings you the island nation's five women ministers in the Seychelles' Cabinet of Ministers.
Mac Suzy Mondon
Mondon has been the Designated Minister since 2016 and is the first woman to occupy the post. She also holds the portfolio as Minister of Local Government and Home Affairs.
She was first appointed to a ministerial position in 2006, serving as the health minister. Over the past 10 years, she has mainly held the portfolio of employment and human resource development, which would later merge with education.
(Joena Meme) Photo License: CC-BY
Mitcy Larue
Larue is the Minister of Youth, Sports and Culture following the cabinet reshuffle in July 2017. She was previously the first woman to head the Ministry of Internal Affairs in 2016.
Larue was a former elected Member of the National Assembly for the district of Baie Ste Anne Praslin. She was the elected member in 1993, 1998, 2002 and 2007.
She has been serving as minister in the Cabinet since March 2012 responsible for the Ministry of Health.
(Salifa Magnan, Seychelles News Agency) Photo License: CC-BY
Jeanne Simeon
Since March 2017 Simeon has been the Minister for Family Affairs, a newly created ministry.
This is Simeon's first ministerial post. She was previously the Deputy Secretary for Cabinet Affairs in the Office of the President since October 2016. She has also served as Principal Secretary in the Vice-President's Office.
A former teacher, Simeon had a prominent career in education, working in the Ministry of Education as Principal Secretary of Education.
(Patrick Joubert) Photo License: CC-BY
Myriam Telemaque
She has held the portfolio for Employment, Immigration and Civil Status since July 2017. She was formerly the principal secretary for Immigration and Civil Status in the Ministry of Home Affairs and has vast experience in immigration.
This is the first ministerial post for Telemaque, who was also the chairperson of the naturalisation committee.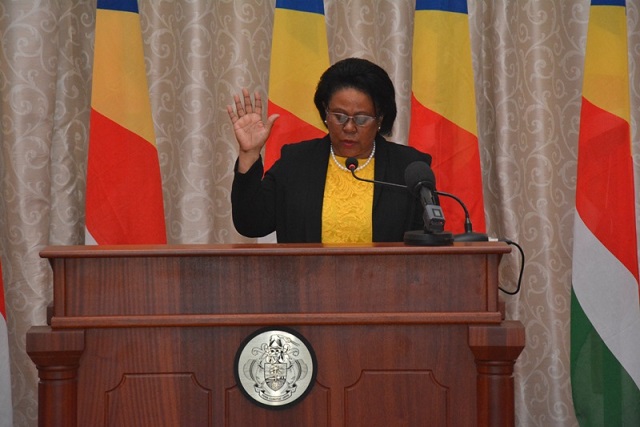 (Seychelles Nation) Photo License: CC-BY
Pamela Charlette
She has been the Minister for Fisheries and Agriculture since July 2017. She is also a new Minister in the Seychelles' cabinet.
Prior to her appointment as minister, Charlette was the principal secretary in the Ministry of Employment, Entrepreneurship Development and Business Innovation.
(Seychelles Nation) Photo License: CC-BY
Seychelles Buzz
» Be a reporter: Write and send your article
» Subscribe for news alert