Authorities open enquiry after plans for Seychelles-India joint military base spread online
Both the old and revised project agreement for the military infrastructures that will be built on Assumption island have been leaked on social media. (Patrick Joubert) 
Send to Kindle
(Seychelles News Agency) - The government of Seychelles has launched an enquiry after the original agreement of a proposed joint plan with India to build military infrastructure on the remote island of Assumption was leaked on social media on Wednesday. 
Speaking to the press on Thursday at State House, Vice President Vincent Meriton said whoever shared the plans has breached the Secrecy Act and the Constitution.
"If we don't do anything now, then everybody would believe that under the guise of democracy and free access of information anybody can publish any official documents that is not supposed to be in the public domain," said Meriton.
Seychelles and India signed a 20-year agreement in January that will enable the construction of military infrastructures on Assumption Island.  The agreement was signed for a second time after revision were made to the first one signed in March 2015.
"We have drafted a summary of the agreement and presented it to the public," Meriton said. "What has happened on social media has come as a shock for us. It reveals how some people are working without principles," he added.
At present the original agreement is being kept by the Ministry of Foreign Affairs, Attorney-General office, State House and the Ombudsman office.
Meriton said that both the old and revised agreement have been leaked on social media but that government "will continue with our public meeting in the districts to inform the public."
Regional meetings are being organised with the public to provide explanations on the proposed project led by Vice President.  
Since the signing of the revised agreement, concerned citizens have raised their objections to the project. A protest is organised every Saturday in the capital of the archipelago in the western Indian Ocean.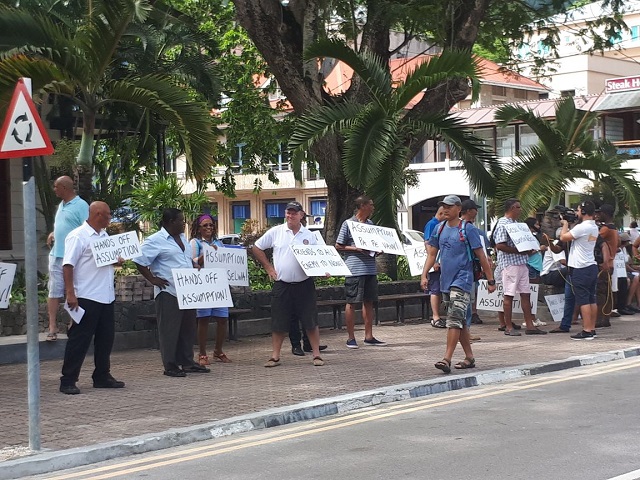 Protests by concerned citizens are being organised on Saturdays in the capital. (Seychelles News Agency) Photo License: CC-BY
The President of Seychelles Danny Faure said in his State of the Nation address on Tuesday that "today, we remain vulnerable. Drug trafficking on our waters is a major problem. Illegal exploitation of our resources is a major problem."
"Our maritime area is vast, and we need to regain control of our territory," Faure said.Seychelles has a vast Economic Exclusive Zone of 1.37 million square kilometres, more  than 8,500 times the size of Mahe, the main island which makes it difficult to detect illegal activities," said the President.
Meriton said that the project on Assumption island is "still in the conception phase and there is no clear cost attributed to it at the moment. It will cover about a quarter of the remote island some 1,140 southwest of the Seychelles' main island of Mahe." 
General
» Be a reporter: Write and send your article
» Subscribe for news alert