2 Seychellois teams make finals in volleyball club tournament being played on home soil
Praslin Girls (in blue) in their semifinal match on Thursday. (Seychelles Natoin)
Send to Kindle
(Seychelles News Agency) - Two Seychellois volleyball clubs have made it to the finals of the 24th edition of the African volleyball club championship for Zone 7 being hosted by Seychelles from March 3 to 10. 
The ladies volleyball team Praslin Girls made it to the final with a 3-0 win over Club Diamant from Madagascar.
Although the Praslin Girls have reached the final, team coach Sonny Athanase told SNA that he is still not satisfied with their performances.
"I am not yet satisfied with the level of play of the team as they have not yet played to the best of their ability like I know they can," said Athanase.
The coach nevertheless feels that his team is ready for the final on Saturday against Quatre Bornes of Mauritius.
"I think we now have to take everything with a positive frame of mind and go all out to win the match, but I am hopeful that we will make our fans happy and proud," he added.
On the men' side, Swim Blue Pal booked a final spot when they eliminated Mauritius club Faucan Flacq Camp Ithier 3-0.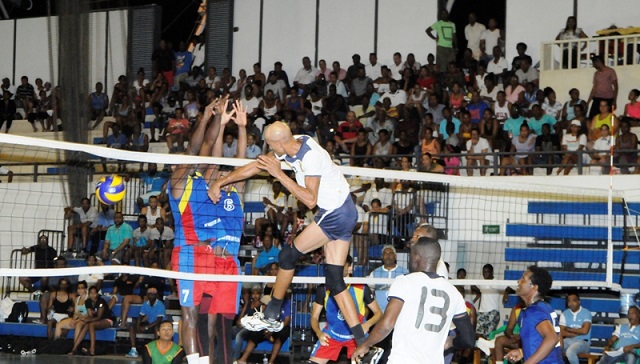 Swim Blue Pal in white in their semi-final match on Thursday. (Seychelles Nation) Photo license: CC-BY
"I am happy up to now with the performance of Swim Blue, especially as this is the first time the team set up three years ago takes part," said French coach Olivier Sauer. "We are now going to face a team who has won the title twice so it's up to us to make the results end in our favour," added Sauer.
Fans of Swim Blue Pal have been anticipating their team in the final against Gendarme of Madagascar.
"Everyone has been waiting for this match since the championship started on Saturday, so they will see the match in the final although my players know it's not going to be easy," said Sauer.
In the final on Saturday at the Palais des Sports Roche Caiman, Praslin Girls will face Quatre Borne volleyball club from Mauritius at 4 p.m. Swim Blue Pal will take on reigning champion Gendarmerie Nationale from Madagascar at 6 p.m.
The other Seychellois ladies team ARSU from the southern Mahe district of Anse Royale, which won the championship 10 times, were eliminated in the semi-final on Thursday when they lost 3-0 to Quatre Bornes.
ARSU were playing without two of their key players, Jerina Bonne and her daughter Marielle Bonne, who were banned for five years earlier this year for refusing to participate in the Commonwealth beach volleyball tournament in Sierra Leone.
The other men's team, Premium Spikers, did not make it to the semi-final.  
Sport
» Be a reporter: Write and send your article
» Subscribe for news alert