Russia, ever more isolated, set to re-elect Putin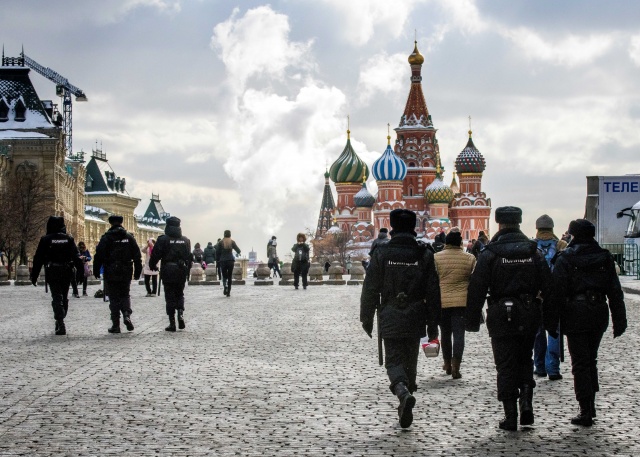 Police officers patrol on Red Square in front of St. Basil's Cathedral in Moscow on March 16, 2018. Russia will vote for President on March 18. (Mladen ANTONOV / AFP)
Send to Kindle
(AFP) - Russia is on Sunday set to elect Vladimir Putin to a historic fourth Kremlin term, as the country faces increasing isolation over a spy poisoning in Britain and a fresh round of US sanctions.
Putin, who has ruled Russia for almost two decades, is polling at around 70 percent and is sure to extend his term to 2024 despite a lacklustre campaign.
In the run-up to the election, he and a compliant state media have sought to reinforce his image as the man who restored stability and national pride after the humiliating collapse of the USSR.
Putin has sought to emphasise Russia's role as a major world power, recently boasting of its "invincible" new weapons and doubling down on Moscow's support for the Syrian regime in a bloody civil war.
Rising tensions with the West over the poisoning of former double agent Sergei Skripal in Britain, and new sanctions from Washington over alleged election meddling, strengthen the impression of a Russia at loggerheads with the rest of the world.
"In America and Europe, they are trying to make us bend over and kneel, but we're still standing," Sergei Babayev, a 55-year-old transport manager, told AFP in central Moscow shortly ahead of the vote.
"They promised us a crisis and we stuck it out. That's Putin's main quality -- he is at the core of our state."
- No choice -
Putin, who has run under the slogan "a strong president -- a strong Russia", has declined to take part in televised debates and shot no new material for his own campaign advertisements.
He is standing against seven other candidates, including millionaire communist Pavel Grudinin and former reality TV host Ksenia Sobchak, but none are polling more than 8 percent.
One of the more memorable moments from the campaign came during a debate when Sobchak threw a glass of water over the ranting ultra-nationalist candidate Vladimir Zhirinovsky, prompting him to call her a "prostitute" and a "mad fool".
Putin's most vocal opponent, the anti-corruption campaigner Alexei Navalny, has been barred from standing for legal reasons and has called on followers to boycott an election he says is a sham.
Authorities, however, are seeking a high turnout to add greater legitimacy to a new term for Putin, who is already Russia's second-longest serving leader since Joseph Stalin.
"These are not quite the elections we see in Western countries," Stepan Goncharov of the independent Levada Center pollster told AFP.
"People are put in a situation where they have no-one to choose from," he said.
"If they want to express their disapproval, then they don't turn out. They think of it as a vote of confidence (in Putin)."
- 'Adults only' -
There has been a particular focus on the youth vote, with prizes offered for the best selfies taken at polling stations and a sexually charged online campaign that brands the election as "for adults only".
Meanwhile, students in several cities have been warned they may face problems in examinations or even expulsion if they do not turn out to vote, according to liberal newspaper Novaya Gazeta.
Heads of schools and state enterprises have put pressure on their employees to vote, as in previous elections, in some cases telling workers they should bring in a list of names of friends or relatives who were also going to the polls.
Early voting has already taken place in some remote areas, where local election commissions bring ballot boxes by helicopter and snowmobile.
Polls open in Russia's far east at 2000 GMT on Saturday and close in Kaliningrad, the country's exclave in Europe, at 1800 GMT on Sunday. Overall turnout is expected to be between 63 and 67 percent, according to official pollsters.
The run-up to Russia's last presidential election in 2012 was marked by protests across the country against Putin's return as head of state after four years as prime minister.
But those demonstrations were quashed and once he was back in the Kremlin a crackdown followed, with activists arrested, the Pussy Riot rock band jailed and draconian new laws criminalising popular protest passed.
© Agence France-Presse
General
» Be a reporter: Write and send your article
» Subscribe for news alert