Hello France! Air Seychelles lands in Paris after 2 and half year break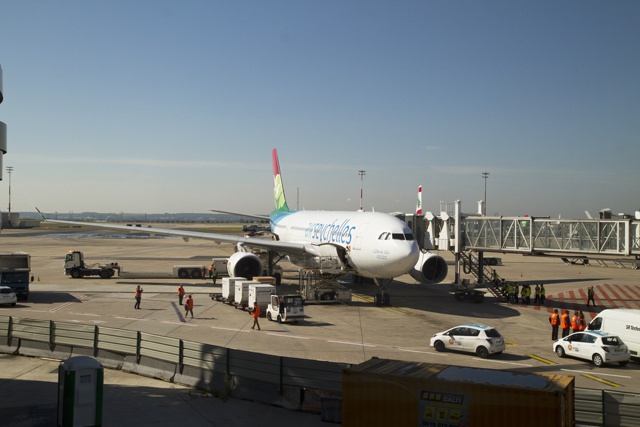 From left:  Air Seychelles parked at Charles de Gaulle airport this morning (Mervyn Marie, Seychelles News Agency)
Send to Kindle
(Seychelles News Agency) - The national airline Air Seychelles has landed this morning at Charles de Gaulle airport in Paris, France after two and a half years of absence.
The airline's Airbus A330-200 was received with the spray of water cannons by the firefighters of Paris' Charles de Gaulle airport as is the tradition upon the arrival of a new company.
Air Seychelles will fly twice a week from Mahé island to Paris via Abu Dhabi, in the United Arab Emirates. France is the main tourism market for Seychelles, where 35,698 French tourists visited in 2013, according to figures from the National Bureau of Statistics.
Air Seychelles says its new Paris flight was 60 percent full, which surpassed its expectations.
Air Seychelles receives water cannon salute on arrival at Paris Charles de Gaulle airport (Air Seychelles)
 Photo license: CC-BY
"We are delighted to be back in France and prosper in the coming years .... I am confident that the new flights offering 1,016 seats per week to Paris will be well received by the travel agents and tour operators. The Air Seychelles passengers can now choose to travel smoothly through Abu Dhabi while keeping the same plane and the same seat or a stopover in Abu Dhabi ... Air Seychelles offers 18 connections between Paris and Mahe per week, " said Joel Morgan, the Seychelles Minister for Home Affairs and Transport who is also the Chairman of the board of directors of Air Seychelles, the during a press conference in Paris today.
The additional connections are offered through a codeshare with Etihad Airways.
Joel Morgan cuts a cake onboard the Air Seychelles flight, as Manoj Papa watches. (Mervyn Marie, Seychelles News Agency) Photo license: CC-BY
Air Seychelles had stopped flying direct routes to Europe in 2011 after encountering serious financial problems on the routes. In January 2012 Air Seychelles entered into a strategic partnership agreement with the national airline of the UAE, Etihad Airways, where Etihad acquired a 40 percent stake in Air Seychelles and a 5-year management contract.
Air Seychelles made a turnaround in the last two years, announcing $3 million profits for 2013.
Despite the improvements in profitability, Morgan says new direct flights to Europe are not on the cards for this year.
"We invest are investing in the long term ... at the moment it is not profitable to have a direct flight to Paris ...but our goal is to introduce a direct flight Mahe-Paris, however for now this is not possible, "said Morgan.
 He said that in the last two years Air Seychelles has reemerged as a stronger airline, particularly growing its freight sector in greater volume.
France is also a major market for the transport of goods and with two flights per week Air Seychelles is expected to increase cargo revenues.
"In 2012, over 45% of Seychelles exports were destined for France including fish of different kinds, our export market has seen a rapid increase of 34%. These exports embody the vision of our President [James Michel] for a blue economy, tapping into the vast expanse of ocean which is teeming life and wealth, in a sustainable manner for the country and for the generations to come, "said Morgan. 
 Air Seychelles team at the press conference in Paris  (Mervyn Marie, Seychelles News Agency) Photo license: CC-BY
In an interview with SNA in Paris, the CEO of Air Seychelles Manoj Papa said that he strongly believes the new Paris flight will be profitable.
"In the last two years Air Seychelles has reinvented itself, we are getting stronger and stronger," said Papa.
"We saw that this morning, we had about 60% of seats full, given how things are going, I believe that very soon we will be profitable on the route Paris-Seychelles. The airlines are investing in the destination.. .. in medium term we will be profitable, "said Manoj.
Manoj said that Air Seychelles already had a strong link with France as a codeshare partner with Etihad Airways as well as working extensively with the STB, the Seychelles Tourism Board to promote Seychelles as a destination.
Air Seychelles currently flies to Mauritius, Johannesburg, Abu Dhabi, Hong Kong and Paris and with the arrival of a new aircraft, by the end of the year, Madagascar will be added to the list of destinations served by the Seychelles company.
Co-editor of the Seychelles News Agency, Rassin Vannier, was on the flight HM018 to Paris. 
Tourism
» Be a reporter: Write and send your article
» Subscribe for news alert