Commonwealth Games hit by indecent assault case
Gold Coast, Australia
|
April 4, 2018, Wednesday @ 08:16 in
World
»
INDIAN OCEAN
|
By:
AFP
|
Views:
2549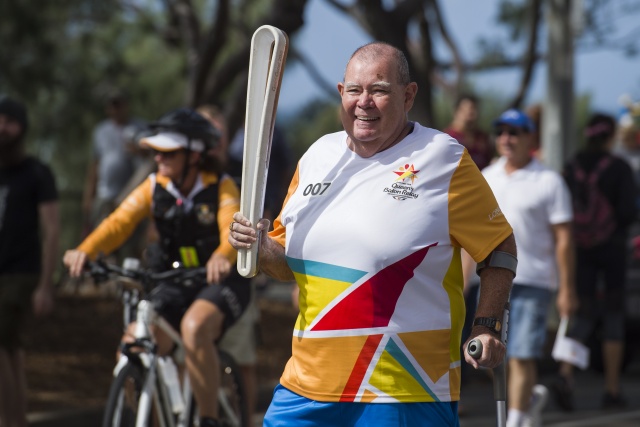 Michael O'Shannassy, former disabled athlete carries the Queen's baton ahead of the 2018 Gold Coast Commonwealth Games, on the Gold Coast on April 4, 2018. (YE AUNG THU / AFP)
Send to Kindle
(AFP) - The Commonwealth Games were hit by an indecent assault case on Wednesday as police investigated a Mauritian athlete's complaint of "inappropriate touching" by a team official.
Just hours before the opening ceremony, Australian state police said they had launched a criminal probe after a complaint was made overnight.
Mauritian media said chef de mission Kaysee Teeroovengadum had been accused of the offence and had stepped down, but that he remained in Gold Coast, the Games' host city.
"The Queensland Police Service is currently investigating a complaint in relation to an allegation of assault of an aggravated nature involving an athlete and an official from the Mauritius team," Deputy Commissioner Steve Gollschewski told reporters.
"This is a criminal investigation that is currently underway. We are giving it absolute priority and anticipate being able to resolve the issue over the coming days."
Gollschewski told AFP that the complaint related to "inappropriate touching", adding that there were no travel restrictions in place against the alleged offender.
Thousands of athletes and team staff have flooded in to Gold Coast, a resort city in eastern Australia, for the Games, with about 6,600 staying at the official village.
Games chief executive David Grevemberg said he had "grave concern" about the situation, which follows a number of abuse scandals in sport including the jail term of up to 175 years handed to US gymnastics coach Larry Nassar in January.
"There's absolutely zero tolerance for poor or abusive behaviour of any nature. There's just no place for that at the Commonwealth Games," Grevemberg said.
No immediate comment was available from the Mauritian team, which has more than 50 athletes competing in a range of sports.
© Agence France-Presse
Indian Ocean
» Be a reporter: Write and send your article
» Subscribe for news alert