With a handshake, Kenya leaves behind divisive poll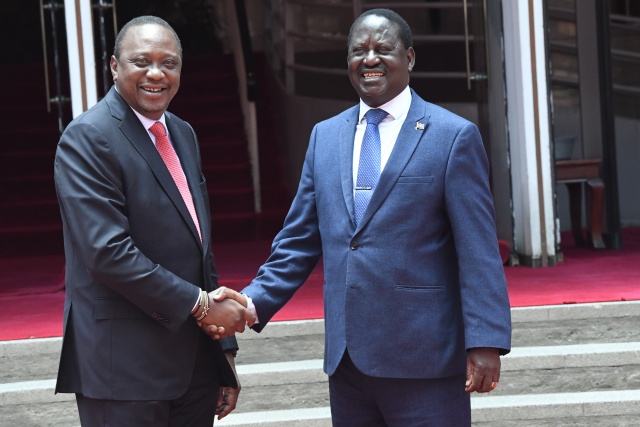 (FILES) In this file photo taken on March 9, 2018 Kenya's President Uhuru Kenyatta (L) and National Super Alliance (NASA) coalition opposition leader Raila Odinga shake hands after addressing a press conference at Harambee house office in Nairobi. It was a handshake that drew a line under Kenya's bruising election, left many people bewildered and swung open the starting gate for the 2022 presidential race, AFP reports on April 10, 2018.(SIMON MAINA / AFP)
Send to Kindle
(AFP) - It was a handshake that drew a line under Kenya's bruising election, left many people bewildered and swung open the starting gate for the 2022 presidential race.
After months of insults during a deadly and divisive election, the two heirs of Kenya's most powerful political dynasties, President Uhuru Kenyatta and his rival Raila Odinga stood side by side, shook hands and pledged reconciliation.
Even in a country used to the political game of thrones, where betrayals are commonplace and bitter rivals forge alliances almost overnight, the gesture on March 9 stunned the nation.
"This is clearly Odinga's attempt to move on. Obviously Kenyatta would favour that as well," said Nic Cheeseman, a professor at Birmingham University in central England, of the mystery-shrouded rapprochement.
Kenya's presidential election in August plunged the country into turmoil, after Kenyatta's victory was annulled by the Supreme Court, citing flaws in the process, which ordered a re-run.
Kenyatta, 56, subsequently won an October re-run after Odinga, 73, boycotted the election which he said would not be free and fair.
Protests and political violence left at least 92 dead during the election period, mostly at the hands of police, according to rights groups.
The handshake, which came after Odinga held a mock swearing-in ceremony in January, has brought an end to the vitriolic attacks between the rivals.
But it has also shaken politicians, whose eyes are already fixed on the next presidential race, due in 2022.
The National Super Alliance (NASA), a powerful coalition of opposition rivals which formed ahead of the 2017 poll, has been thrown into disarray by Odinga's decision. His fellow leaders said it took place without consultation with them.
- Raila's risk -
However several questions loom over the deal struck between Odinga and Kenyatta.
No concrete details have been released about its goals -- in particular, whether the president agreed to any substantial reforms of the election process, civil society or halting attacks on the judiciary.
"It's really only a Christmas present with nice paper and a ribbon, but we don't know what is inside," said Tom Wolf, chief analyst at the Ipsos polling institute.
"By throwing away all his hostility towards Uhuru and the Jubilee (ruling party) government, by shaking hands, Raila is taking a risk as to whether his followers, whether (ethnic) Luo or others, will go along with it."
Media speculation has been rife about possible benefits Odinga has secured for himself.
"If he is seen to have made a deal that helps him personally but doesn't do anything for the country, I think that will affect his legacy," said Cheeseman.
With the 2017 electoral saga behind Kenya, the unexpected reconciliation has seen headlines turn to the 2022 election, and politicians setting themselves up for the next battle -- including some of Odinga's NASA allies who are now vowing to go it alone.
While the 2017 poll was widely seen as Odinga's last, analysts say nothing can be ruled out.
"I wouldn't be surprised at all to have (Odinga's) name being discussed as a possible coalition partner for people come the next election," said Cheeseman.
- Opposition instability -
He said the opposition is now facing a period of great instability.
"People complain in the opposition about Raila... they say he doesn't have any ideas, he doesn't have the stamina. But the biggest challenge for the opposition is going to come when they replace Raila."
Cheeseman said that the veteran opposition leader had an ability to appeal to Kenyans across some ethnic lines -- in a country where community and politics are inseparable -- in a way that no other opposition politician has proven to do.
"The real risk for the opposition is that in the absence of Raila, these leaders go back to their own ethnic groups, they become smaller, they become more parochial, they become harder to build into an effective national alliance," he said.
A key player in the race for 2022 is vice president William Ruto, an ethnic Kalenjin who allied with Kenyatta -- a Kikuyu -- in 2013 despite historically tense relations between their communities.
In exchange for his community's support of Kenyatta, Ruto has been promised the Kikuyu will support him come 2022, a vow easily broken in Kenya's fickle political landscape.
Cheeseman said that while Kenyatta will be "quite careful not to betray Ruto", he might not be able to marshall his supporters to back the vice-president, which could see further political gymnastics in the coming years.
"Maybe we'll actually see Ruto on the opposition side. If the ruling party doesn't come through with a good deal for him to succeed Kenyatta, he's actually gonna be the opposition candidate."
© Agence France-Presse
Africa
» Be a reporter: Write and send your article
» Subscribe for news alert