Citizens of Seychelles exempted from visa requirements in Angola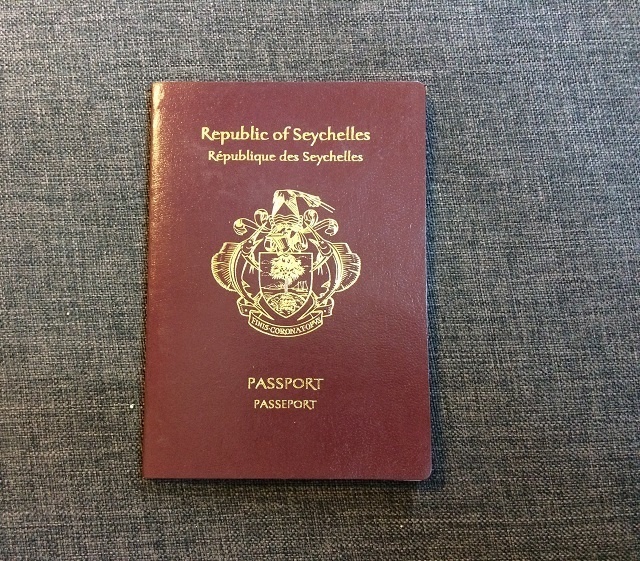 The Seychelles' passport. (Seychelles News Agency)
Send to Kindle
(Seychelles News Agency) - Seychelles is among 61 countries whose citizens have been exempted from visa requirements when travelling to Angola.
According to the International Press, EIN News Desk, the information was released last week by the Director General of the Migration and Foreign Service of Angola, Gil Famoso da Silva. The new policy goes into effect April 30.
Da Silva said that "the country's border check points are ready to welcome those people, under the Presidential Decree 56/18 of 28 February."
The countries which will benefit from the visa waiver include the 28 European Union states and all Portuguese-speaking countries. Botswana, Mauritius, Namibia, Seychelles, Zimbabwe, South Africa and Singapore will also benefit from the new visa waiver.
"The procedure will enable visitors to get, within 72 hours, a pre-visa that guarantees, on arrival in Angolan soil, the stay up to 30 days by the entrance and 90 days a year," said the International Press.  
Speaking to SNA, the Director of Consular Affairs of Seychelles' Department of Foreign Affairs, Christian Faure, said that the department "has received an unofficial letter in Portuguese from the authorities in Angola and is waiting for a translated version of the letter. "
Faure explained that "meanwhile, as this does not need any ratification from the National Assembly, we are doing the necessary internal modalities."
Angola – a member of the Southern African Development Community (SADC), like Seychelles – is making a step towards becoming a more visitor-friendly country. In the region, Seychelles remains the top performing African country on visa openness. This is according to the second edition of the Africa Visa Openness Index. Globally, Seychelles is ranked 25th, a position that has not changed since 2016.
Irrespective of the nationality of the visitor there are no visa requirements to enter Seychelles – a group of islands in the western Indian Ocean - but some documents must be shown in order to obtain immigration clearance at the International Airport. These are: a passport valid on the date of entry and exit from the island nation, return or onward ticket and proof of accommodation including contact details.
According to Foreign Affairs Department, Seychellois nationals can visit 96 countries visa-free and 31 with the issuance of a visa on arrival, bringing the total to 127.
Holders of Seychelles' passport have the most powerful passport in Africa, a 2017 travel ranking reports revealed.
General
» Be a reporter: Write and send your article
» Subscribe for news alert