9 amazing facts to Seychelles' Curieuse Island, a must-see for visitors
(Salifa Karapetyan, Seychelles News Agency)
Send to Kindle
(Seychelles News Agency) - Curieuse Island, a small granitic island, is a national and marine park managed by the Seychelles National Parks Authority.
Curieuse is located off the north coast of Praslin – the second-most populated island of Seychelles, an archipelago of 115 islands in the western Indian Ocean.
This week SNA shares nine amazing facts about Curieuse Island that make it a must-see island for visitors.
     From Ile Rouge to Curieuse Island
The island is notable for its bare red earth mountains and was originally named "Ile Rouge" due to its red coloured soil. In 1768 the French claimed possession of the island, renaming it after the schooner "La Curieuse", a ship that was under the command of explorer Marc-Joseph Marion du Fresne.  Over the years the island faced severe soil erosion following several incidents of fire. The first significant fire was in 1771. Its scars can be seen today, 247 years later.
(Salifa Karapetyan, Seychelles News Agency) Photo License: CC-BY
     The second and only natural forest of the endemic Coco de Mer trees
Curieuse is the only other island apart from Praslin where the unique coco de mer trees grow in their natural state. The nut, one of the cultural icons of Seychelles, grows naturally on Praslin, where its main forest, the Vallee de Mai, is a UNESCO World Heritage site. In 1967 a fire destroyed much of the vegetation on the island, including more than 150 cocos de mer palms. Following this, the government took ownership of the island and introduced various restoration and conservation projects.
(Salifa Karapetyan, Seychelles News Agency) Photo License: CC-BY
     Where Aldabra giant land tortoise roam free
The island was the first island to receive a group of giant land tortoise from the Aldabra Atoll – a UNESCO world heritage site. The relocation was initiated by former President France Albert Rene; it started in 1978 and ended in 1982. Today, Curieuse is home to more than 300 Aldabra giant tortoises, some staying around the Ranger's Station and the rest roaming around on the island. The Seychelles National Parks Authority also has a nursery breeding these species.
(Salifa Karapetyan, Seychelles News Agency) Photo License: CC-BY
     A former leper colony
In 1829, Curieuse was first used as a leper colony, and it remained one until 1965. It is believed that this helped protect the ecosystem from human influence. Today, ruins of the leprosarium remain. Another significant reminder is Dr. William Macgregor's former residence at Anse St. Joseph, which is now being used as an educational center and a museum.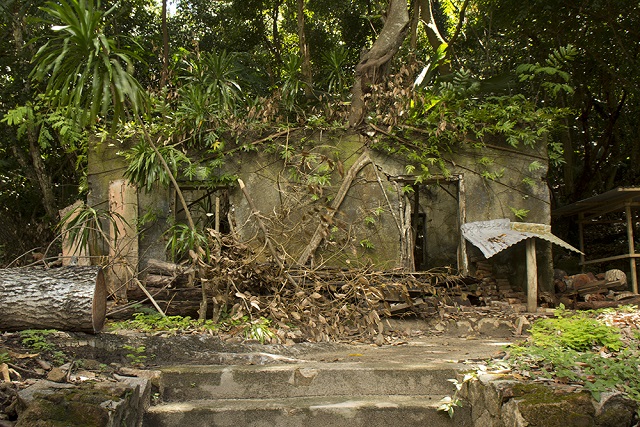 (Salifa Karapetyan, Seychelles News Agency) Photo License: CC-BY
     A marine park for coral restoration
In 1979, Curieuse and surrounding waters were declared the Curieuse Marine National Park in order to protect the native wildlife. Today the park is being used as for several coral restoration projects including a nursery were corals are grown.
(Salifa Karapetyan, Seychelles News Agency) Photo License: CC-BY
     Endemic species
Curieuse is home to several endemic and rare species. Among the plant species on the island, several are native and endemic to Curieuse; Porcher (Cordia subcordata), Bois Chandelle (Dracaena), Lalyann dile (Secamone schimperiana, Bwa bannann (Gastonia sechellarum) and Bois Cassant de Bord Mer (Guettarda speciosa). Another rare species which frequents the island is the Seychelles black parrot, Coracopis nigra barklyi, a parrot found only on Praslin but uses Curieuse Island as a feeding ground.
(Seychelles Islands Foundation) Photo License: CC-BY
     Interesting nature trails and hikes
There are several trails and hikes for visitors to enjoy on Curieuse Island. One such trail goes from Baie Laraie to Anse St. José on the other side of the island, passing over the boardwalk through a thick and rich mangrove forest. The forest is home to seven different species of mangroves. There is also a rocky trail to the summit of the island.
(Salifa Karapetyan, Seychelles News Agency) Photo License: CC-BY
     Beautiful rock formations
The island offers magnificent sights of giant granite cliffs. Some of these rocks formations are so defined that one would have the impression that it has been sculptured. One such formation is the lizard rock, where one can see a lizard climbing the boulder. Another amazing formation is shaped like a tortoise, poised to take a plunge in the sea.
(Salifa Karapetyan, Seychelles News Agency) Photo License: CC-BY
     One of the most magnificent views of Seychelles
The island offers several points with outstanding views. One such view is Mont Caiman, where one can have a 360-degree view of Silhouette, Ile du Nord, Ile au Foux, Ile Aride, Denis, Grande Soeur, Petite Soeur, Ile Round, St Pierre and up to Pointe Chevalier of Praslin.
(Salifa Karapetyan, Seychelles News Agency) Photo License: CC-BY
Seychelles Buzz
» Be a reporter: Write and send your article
» Subscribe for news alert