Seychelles future eco-island : La Digue going green with electric cars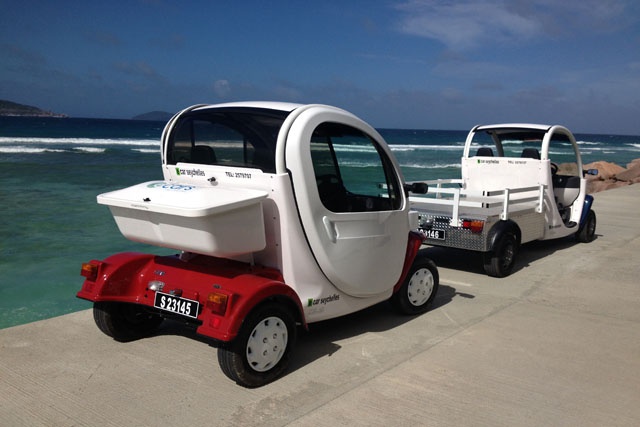 Seychellois owned company Ecars introducing GEM electric cars in Seychelles starting on La Digue considered to be the future eco-capital of Seychelles (Ecars)
Send to Kindle
(Seychelles News Agency) - First introduced during the fourth Carnaval International de Victoria in April in the Seychelles capital of Victoria, fully roadworthy electric cars, a first for Seychelles, could be the next big thing on La Digue, Seychelles' third most populated island.
The island has until now been a haven for bicycles and is also famous for its ox-carts as there's been much effort to keep the island with a population of around three thousand people, free from traffic congestion and noise, where only a few cars are allowed on the island.
La Digue is well-known for its tranquillity amongst the tourists, who the islanders rely on heavily for their livelihood.
However, with only six registered taxi drivers and over 200 tourism establishments, the business owners as well as the islanders had been requesting for alternative transport solutions for a while now.
A Seychellois-owned business, 'Ecars' seems to have found the perfect solution from GEM, an eco-friendly electric car company based in the US.
Co-owner of Ecars Paul Rouillon says he fell in love with the idea of introducing GEM electric cars in Seychelles after he visited Orlando in the USA back in 2006 adding that he immediately thought of La Digue.
Rouillon and his business partner Peter Pomeroy, both from Seychelles second most populated island of Praslin has started to import three models, an electric club cars, a pick-up and a closed-car for viewing and testing only.
Rouillon told SNA that depending on the road and load, the electric cars can be used to drive for over 50 kilometres on 5.1 kilowatt hour of electricity.
"It practically uses the same socket 240 volts like any household appliances. The only difference is it will take five to six hours to be charged fully and with the current electricity rate, we have estimated that a person charging the electric cars will see an increase of $ 45 to $50 (550 to 600 Seychelles rupees) per month on his or her electricity bill. Of course, this will only apply if the car is charged every day," says Rouillon adding that this is the reason why they are targeting La Digue as their first point of sale as the island has an area of ten square kilometres only.
Following a recent test drive of those vehicles on La Digue, Rouillon told SNA that the owners of the hotels and small guest houses have been very supportive of the idea of going green.
"There have been a lot of comments and a lot of feedbacks, and It's all been really, really positive. And I know we are on the right track because this is all to do with protecting our environment and at the same time promoting a different kind of tourism and travel experience."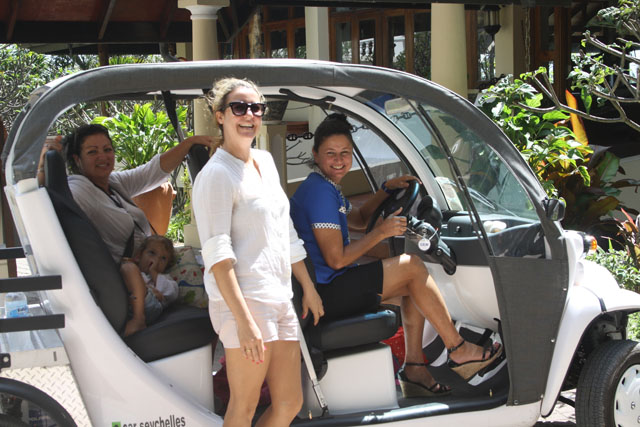 Ecars' electric vehicles have been welcomed by hoteliers and the general public on La Digue following a recent test drive on the island (Ecars) Photo License: CC-BY
Ecars is expecting a fourth model, a 6 seater club car like a mini-bus to be used especially on La Digue, to arrive in the country soon, imported from GEM in the US.
It was late last year, following a cabinet of minister's meeting that it was announced that Seychelles cabinet of ministers had approved to increase the use of electric 'golf' cart vehicles for tourism establishments on La Digue. 

These will not be for private individual use but will be for guest-houses and small hotels only and will be used only to transfer a maximum four adults and luggage to and from their hotels.
The introduction of electric golf carts on La Digue forms part of a long term plan of phasing out all fuel-dependent vehicles on the island as part of the Seychelles 2020 vision to turn La Digue into the eco-capital of Seychelles.
Ecars had imported three different models for viewing and testing so far, a fourth model is expected soon from GEM in the US (Ecars) Photo License: CC-BY
While the arrival of the electric cars to La Digue could make one of the most visited islands of the Seychelles archipelago amongst tourists, become the first to go green, Ecars says La Digue is only the first phase of what the company is planning in their efforts to introduce environmentally friendly modes of transportation in the Indian Ocean archipelago.
Electric buggies are widely used at hotels across the main islands but these are in fact the first fully roadworthy electric vehicles to be introduced targeting the wider public.
Rouillon has told SNA that in the coming months Ecars will be introducing 6 other models of electric cars manufactured by Aixam and Goupil, two France based companies.
The company is planning to have a showroom, spare parts as well as service centre but this Rouillon says will take some time as they have to acquire a piece of land on the main island of Mahé to have those facilities.
In the meantime though, Ecars is looking for a temporary set up so that people who are interested can order their models which Rouillon says can cost between $ 13,693 for a club car to $ 40, 249 for a pickup, while a closed car costs around $23, 310 following a government decision to reduce trades tax on the importation of such electric vehicles.
General
» Be a reporter: Write and send your article
» Subscribe for news alert