Korea Travel News awards Seychelles for best tourism office
Korea Travel News awards Seychelles for best tourism office
|
January 29, 2014, Wednesday @ 12:17 in
Business
»
TOURISM
|
Views:
3017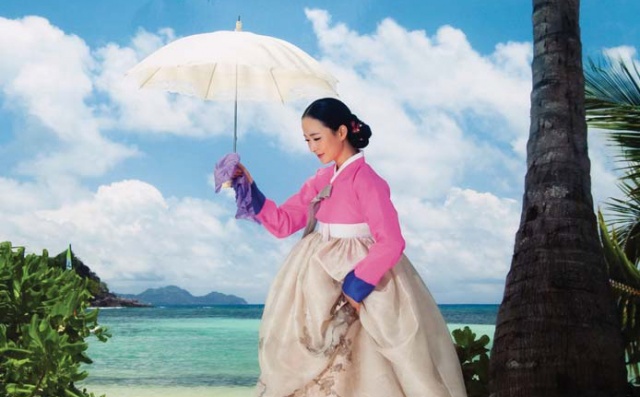 Hanbok dress designed by Kim Hye-soon, modelled by a Korean woman at Port Launay beach, Seychelles (Park Jae Yong)
Send to Kindle
(Seychelles News Agency) - The Seychelles tourist office in Seoul received the "Best of the Best National Tourism Office Award" from media company Korea Travel News this month, according to a press statement from the Seychelles Tourism Board.
This followed a survey by Korea Travel News of 270 major tourism offices in Korea took place in December 2013.
Canada and Hong Kong won the 1st place, followed by Macao, Seychelles, Switzerland, Japan and Australia.
The criteria for the awards included proactive marketing, promotional events, friendly communication, fast feedback, seminars, provision of real time up-to-date information, and offers of educational programs. Among them, the Seychelles Tourism Board was commended for its proactive marketing activities.
The Seychelles islands are said one of the hottest 3 destinations for newly wedded Korean couples, alongside destinations such as Cancun and Mauritius.
"Seychelles is well known for honeymoon destination. Now we are trying to expand the market as family, SIT and incentive destination. We are working on to bring Korean Air flight to Seychelles. This will contribute immensely in the air connectivity from North-east Asian countries as well as Korea itself," said Julie Kim, regional manager of Seychelles tourist office in Korea.
She added that the 7th edition of Seychelles Eco-Friendly Marathon and Korea Gala with a Korean Costume Fashion show and Seychelles-Korea Business Forum are being organised in Seychelles in 2014 as part of a "Korean Week."
The Seychelles Tourism Board says it is aiming to reach 10,000 South Korean visitors to Seychelles by 2018.
South Korea has a population of 50 million. By the end of 2013, 13 million South Koreans traveled overseas, according to the Korea Culture and Tourism Research Institute.
Tourism
» Be a reporter: Write and send your article
» Subscribe for news alert