Amelia Rose Earhart makes flying stop in Seychelles in round-the-world trip in a single-engine plane
Amelia is greeted at Seychelles International Airport by Gilbert Faure, CEO of the Seychelles Civil Aviation Authority on  (Sybil Gonthier, The Amelia Earhart Project)
Send to Kindle
(Seychelles News Agency) - A young American woman Amelia Rose Earhart and her compatriot co-pilot, Shane Jordan landed in Seychelles this week for a brief overnight refuelling stop for their round-the-world trip in a single-engine Pilatus PC-12 NG plane. 
The aviation enthousiast used to work as a weather and traffic anchor at a TV station in Colorado, USA (Amelia Earhart, Twitter)Photo license: All Rights Reserved
Amelia Earhart is currently attempting to re-create the flight path of legendary American aviator Amelia Mary Earhart, who went missing in her plane in 1937 after attempting to be become the first woman to fly around the world. Earhart was at the time the first female aviator to fly solo across the Atlantic Ocean. 
The single engine plane refuelling at the Seychelles International Airport this week (Amelia Earhart, Twitter)Photo license: All Rights Reserved
Some 77 years later, the 31-year old Colorado native, will attempt the flight around the world and when she finishes she will be the youngest woman to fly around the world in a single-engine plane, given that in 1964  American pilot Geraldine Mock became the first woman to fly around the world, at the age of thirty nine.
Earhart, who until recently worked as a weather and traffic anchor for a local NBS-affiliated news channel, spoke to her former colleagues via Skype from her half-way rest stop of Maldives, telling of her experience so far.
"It's been going great – so far we've travelled through, gosh, let's see… the United States, South America; we went through Brazil, we went to Dakar, Senegal ,Sao Tome, Tanzania, Seychelles, where we met Nico's uncle and then we made our way into the Maldives for a rest day, so not a bad stop, but so far we've travelled about 13,000 miles, we've got over 11,000 miles to go, but we're pretty much at the halfway point so we needed a break and I'm so excited to make my way back to the States," she told the 9news team.
Nico, who is of Seychellois origin, is the 9news team's editor. His uncle, who SNA can confirm is the CEO of the Seychelles Civil Aviation Authority (SCAA) Gilbert Faure went out to meet Amelia at the Seychelles International Airport when she landed.
Faure told SNA the Nico Goda, who is his sister's son, lives in Denver.
Amelia tweets a photo of the plane which will take her and her co-pilot around the world (Amelia Earhart, Twitter)Photo license: All Rights Reserved 
Amelia also tweeted a few pictures of her brief stay in Seychelles, where she arrived on 2 July and left the next morning, including two of her plane on the airport runway, one aerial shot of the Saint Anne Marine Park and another of her holding a tiny banana from Seychelles in her cockpit.
 Amelia shows her fascination with the banana she found in Seychelles (Amelia Earhart, Twitter)Photo license: All Rights Reserved
Amelia is currently approaching Singapore, where she is expected to make another refuelling stop before she continues eastwards towards the Pacific Ocean via Australia, Papua New Guinea, Kiribati and on to Hawaii before she reaches the U.S. mainland.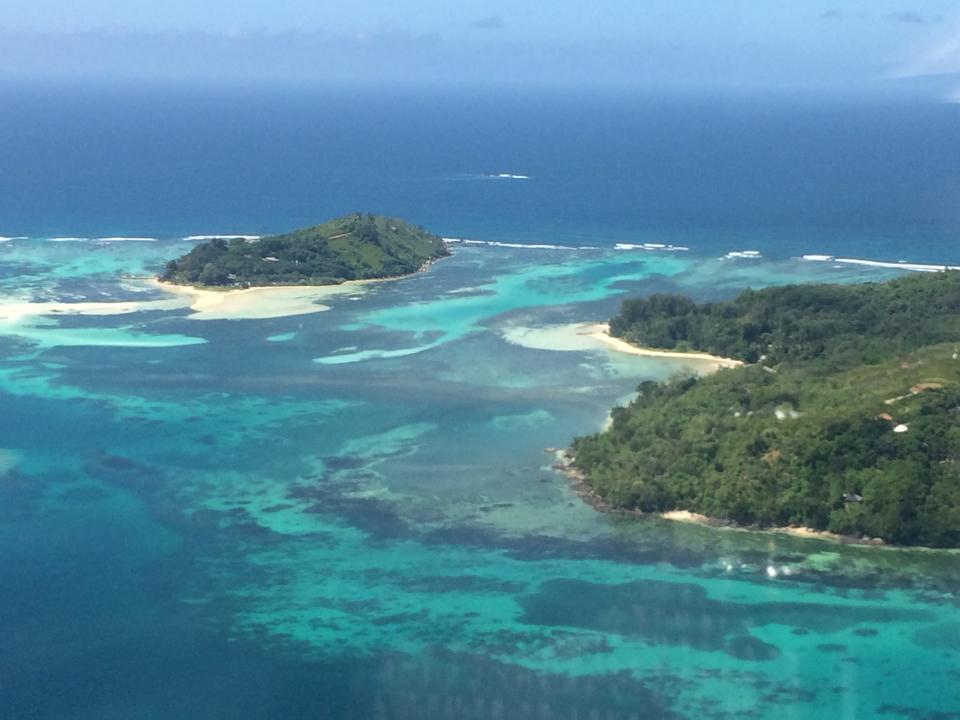 Amelia shares the beauty of the Seychelles islands on Twitter (Amelia Earhart, Twitter) Photo license: All Rights Reserved
Flying in the tailwind of the legendary pilot Amelia Mary Earhart 
On the second of July 1937, a determined and adventurous pilot Amelia Mary Earhart went missing somewhere over the Pacific Ocean in her Lockheed Electra plane in her attempt to be the first woman to fly around the world.
The wreckage of her plane was never found and popular fascination with Earhart's journey and life has never abated.
Although she is not actually related to the Amelia Earhart, this Amelia—named Amelia Rose by her parents – shares her famous namesake's love of flying and is passionate about encouraging other young women to explore careers in aviation.
Flying for a good cause with a famous name
Being named Amelia Earhart influenced her desire to start flying over 10 years ago, and Amelia runs the non-profit organization Fly With Amelia Foundation as a way to help other young women find their place in flight.
The Fly With Amelia Foundation will award flight-training scholarships to young women, aged between 16 and 18, and foster aviation and aerospace opportunities for people off all ages through aviation based educational curriculum.
The flight left from the United States on 23 June and is scheduled to return to the United States on 12 July. But the similarities of the flight end there, with organizers ensuring that the Pacific Ocean will not be this Amelia Earhart's final destination.
A breath taking view of Seychelles from the cockpit (Amelia Earhart, Twitter)Photo license: All Rights Reserved
Amelia's excursion will be one of the world's first socially-integrated global circumnavigations. Her plane, a single-engine turboprop Pilatus PC-12, is equipped with its own Wi-Fi and is streaming both video and audio live in-flight while Amelia and her co-pilot, Shane Jordan, tweet pictures and updates with the hashtag #flywithamelia.
Amelia's flight will be a total of about 28,000 miles with 17 stops in 14 countries. Eighty percent will be over the ocean. The final route details haven't been announced because she and her crew are still waiting on things like visas, passports and the weather forecast.
In the cockpit (Amelia Earhart,Twitter) Photo license: All Rights Reserved
People
» Be a reporter: Write and send your article
» Subscribe for news alert