World Oceans Day: 5 ways Seychelles works year round to protect its waters
(Fregate Island Private)
Send to Kindle
(Seychelles News Agency) - Friday, June 8 is World Oceans Day, a global day of ocean celebration and collaboration for a better future. Every year, World Oceans Day provides a unique opportunity to honour, help protect, and conserve the world's shared ocean.
Seychelles, an archipelago surrounded by an Exclusive Economic Zone of 1.37 million square kilometres, has taken several measures to protect its vast waters.
SNA looks at five major activities Seychelles has undertaken in the past four years to ensure marine conservation.
The Nature Conservancy to mobilise an $80 million debt-swap
In April 2014, the United States'largest environmental organisation, The Nature Conservancy, said it would mobilise an $80 million debt-swap for the government of Seychelles in exchange for their commitment to enhance marine conservation and climate adaptation commitments. The effort will also establish a permanent endowment that generates sustainable financing for Seychelles' marine conservation efforts.
(Gerard Larose, Seychelles Tourism Board) Photo license: CC-BY
Seychelles reached debt buyback agreement with Paris Club
In February 2015, Seychelles reached a major debt buyback agreement worth $30 million with the Paris Club group of creditors and South Africa in the French capital. The debt was to be transferred to a trust which will conserve the Indian Ocean archipelago of 115 islands' ocean spaces. The Paris Club also offered an additional five percent debt forgiveness on the original amount.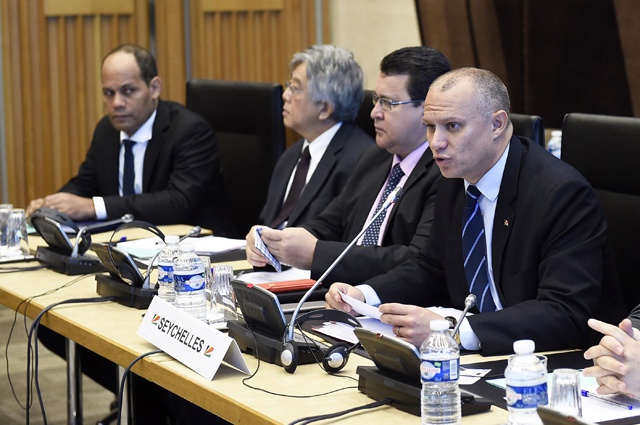 (Ministry of Finance, Trade and Blue Economy) Photo License: Photo license: CC-BY
Marine Spatial Planning Initiative starts
Seychelles started the planning phase of a project that will propose new areas for marine protection and sustainable use of the island nation's waters in May 2017.  The Marine Spatial Planning Initiative is the first comprehensive marine plan in the western Indian Ocean. It is being facilitated by The Nature Conservancy in partnership with the coordination unit of the government, the United Nations Development Programme and the Global Environment Facility (GOS-UNDP-GEF). The plan is seen as the as the first step of control and management of the island nation's Exclusive Economic Zone.
(Gerard Larose, Seychelles Tourism Board) Photo license: CC-BY
World Bank approves a $20 million package
In October 2017, the World Bank approved a $20 million package for the conservation of Seychelles' marine resources and seafood value chains. The funding was part of the Third South West Indian Ocean Fisheries Governance and Shared Growth Project (SWIOFish3), aimed at improving the management of marine areas and fisheries in targeted zones of Seychelles. The package will help Seychelles achieve its fisheries management plan and its desire to capitalise on its natural resources.
(The Blue Economy Department) Photo license: CC-BY
Seychelles announced new areas for marine protection
In February, Seychelles announced an area of ocean the size of Great Britain that will be newly protected from overfishing, pollution, and unplanned development to guard against climate change while not slowing economic progress. This include the protection of two new areas -- 74,400 square kilometres of waters surrounding the extremely isolated Aldabra Atoll, a Seychelles' UNESCO World Heritage site and Amirantes to Fortune Bank, an area of 136,750 square kilometres.
(Salifa Karapetyan, Seychelles News Agency) Photo license: CC-BY
Seychelles Buzz
» Be a reporter: Write and send your article
» Subscribe for news alert