EU deal gives Seychelles trade boost, $ 12 million to enhance systems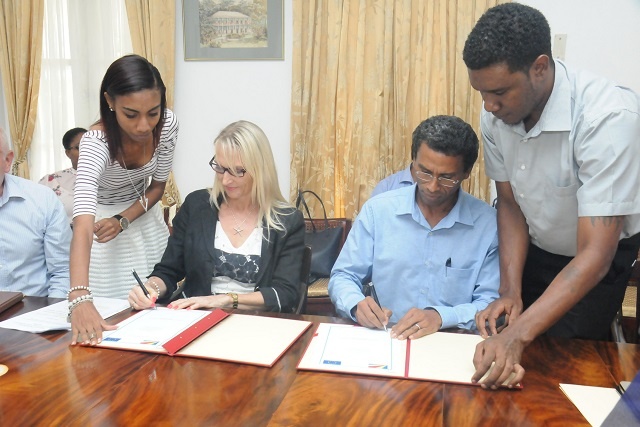 The agreement was signed by the Secretary of State for Foreign Affairs, Barry Faure, and EU ambassador for Seychelles, Marjaana Sall. (Jude Morel) 
Send to Kindle
(Seychelles News Agency) - Seychelles has received around $12 million to improve trade facilitation and enhance the capacity of the public and private sectors under a newly signed economic partnership agreement with the European Union (EU).
During the signing ceremony on Tuesday, the Seychelles' Secretary of State for Foreign Affairs, Barry Faure, said that the agreement goes beyond a conventional free trade agreement.
"It opens the EU markets fully and immediately, allowing long transition periods for partner countries to open up partially to EU imports while providing protection for sensitive imports," said Faure.
The economic partnership agreement is expected to boost Seychelles' exports by encouraging economic diversification, the production of higher value products and the exploitation of niche markets. Currently, 58 percent of Seychellois exports go to European markets.
Faure said the agreement will also support the upgrading of value chains in the manufacturing, agriculture and fisheries sectors and job creation through high-value addition.
The EU ambassador for Seychelles, Marjaana Sall, said that this new support programme will focus on reinforcing capacities of governmental institutions and private enterprises so they can better see trade opportunities in the region and with the EU.
"More trade and higher export will boost economic growth, provide more opportunities for private sector development and create more jobs," added Sall.
Private enterprises will benefit with assistance to increase their productive capacities through the acquisition of new equipment and European know-how on how to produce high-value products with export potential.
Public institutions will also be assisted with training so as to better understand and implement trade agreements, and better promote Seychelles products abroad.
Already 32 projects have been identified for implementation under the agreement.
The agreement also makes provisions for business to business fora so as to put European and other regional importers including investors directly in touch with enterprises in Seychelles, an archipelago in the western Indian Ocean.
Seychelles has to date received $46 million in development aid from the European Union under the European Development Fund (EDF), covering various sectors, from environment to economic reform programme and education. 
General
» Be a reporter: Write and send your article
» Subscribe for news alert