President of Seychelles takes a military base tour in Goa, India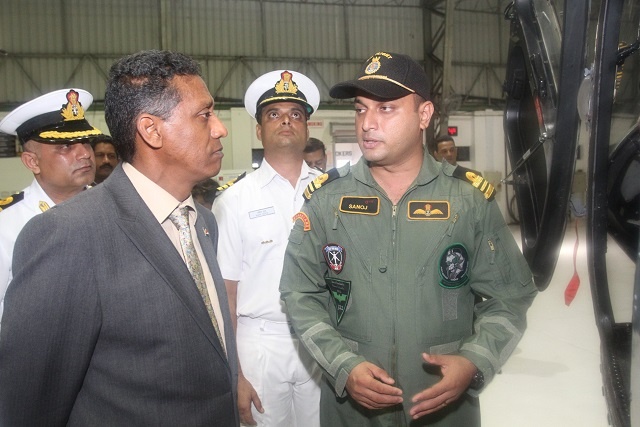 President Faure visited the Hansa naval airbase and was shown the areas of cooperation the base has with Seychelles in a presentation. (State House)  
Send to Kindle
(Seychelles News Agency) - Broadening cooperation between Victoria -- the capital of Seychelles -- and Panaji -- the capital of Goa, India -- was the subject of discussions held between President Danny Faure and the Mayor of Panaji, State House said on Sunday.
Faure and Mayor Vithal Chopdekar also agreed to explore further cooperation in areas such as port exchanges, marine security, tourism, heritage preservation, people-to-people contact and fisheries.
The head of state of Seychelles, who is on his first state visit to India, visited the Hansa naval airbase and was shown the different cooperation areas that the base already has with the 115-island archipelago in the western Indian Ocean. The presentation was followed by a tour of the naval base where Dornier aircraft and various types of helicopters and other aircraft are stationed.
Faure also visited a museum which houses fragments of sculpture from Hindu temple sites and a gallery containing portraits of some 60 of Goa's Portuguese viceroys over the 400 years of Portuguese rule. Goa was ruled by the Portuguese since the 1600s until the 1960s.
Faure's visit was also to a gallery showing Goa's Portuguese history. (State House) Photo license: CC-BY
The Seychelles' President also visited the Church of St Francis of Assisi, a Roman Catholic Church situated in the main square of Old Goa built in 1661 by the Portuguese. He ended his historical visits to the Basilica of Bom Jesus -- a UNESCO World Heritage site -- which holds the mortal remains of St. Francis Xavier, which is venerated worldwide every 10 years. The next public veneration is set for December 2024.
On Monday and Tuesday, Faure will travel to New Delhi where he will meet the President, the Vice-President, and other high-level officials. He will also hold bilateral talks with the Prime Minister of India, Narendra Modi. 
General
» Be a reporter: Write and send your article
» Subscribe for news alert