Mnangagwa suspects Grace Mugabe faction behind blast: BBC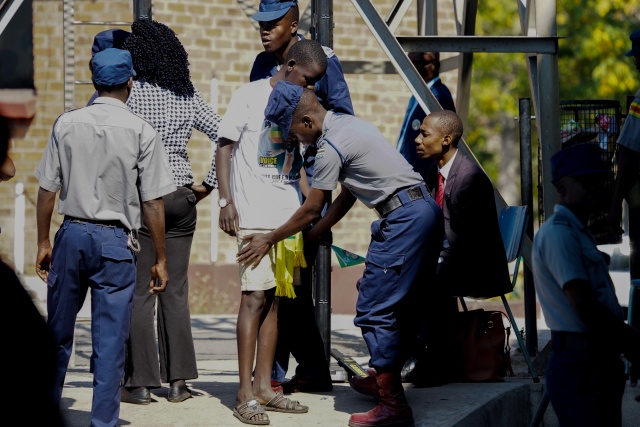 A supporter of the Zimbabwean ruling Zimbabwe African National Union - Patriotic Front party is searched by a police officer on entrance to Hwange stadium on June 27, 2018 in Hwange, Zimbabwe. (ZINYANGE AUNTONY / AFP)
Send to Kindle
(AFP) - Zimbabwean President Emmerson Mnangagwa suspects "aggrieved" supporters of Robert Mugabe's wife were behind a blast that killed two people at a rally last weekend, according to a BBC interview aired on Wednesday.
Mnangagwa narrowly escaped the explosion, which occurred as he left the podium after addressing a supporters of the ruling ZANU-PF party in Bulawayo, the country's second largest city.
The blast killed two people and injured at least 49 others, including both of Mnangagwa's deputies and raised fears of insecurity ahead of presidential polls scheduled for July 30.
Mnangagwa called the attack "political action by some aggrieved persons" angry with how power has been distributed.
"Without evidence, the people who are aggrieved about the new dispensation are the G-40," he said, referring to a pro-Mugabe faction known as Generation 40 which wanted Grace Mugabe to succeed her husband.
Their efforts to secure Grace's position were widely blamed for the military's brief November takeover that culminated in Mugabe resigning after 37 years and Mnangagwa taking the reigns of power.
"That is the logical and reasonable conclusion one may make... until you pin (this) down this to why has this happened when you get the person," added Mnangagwa who also said that arrests were imminent.
- 'Safe, peaceful' -
Though Mnangagwa did not directly accuse Grace of involvement, relations between the pair are known to be frosty and Mugabe has called the military takeover illegal.
Just days days before the army's intervention, Mnangagwa was removed as vice president in a move that paved the way for the ambitious first lady to succeed Robert Mugabe.
Grace Mugabe had the backing of her G-40 clique of younger ruling party leaders, while Mnangagwa, a favourite of the military, enjoyed support from a rival faction named "Lacoste". Mnangagwa is referred to as the "crocodile" for his supposed ruthlessness.
Asked whether he trusted Grace Mugabe, Mnangagwa asked why "would I trust somebody who was used by a cabal to say things which had no basis at all?"
"I feel sympathy for her because she was, in my view, politically immature -- but was easily used as a tool by those who wanted to get me," he told the London-based broadcaster.
The former first lady is the target of two ongoing investigations launched following her fall from grace -- one into alleged ivory smuggling, and another into allegations she plagiarised her PhD dissertation.
Mnangagwa has previously said that the weekend blast "did not call into question the stability of the country" and vowed that next month's national elections would go ahead as planned.
"We are a safe, peaceful and loving country. Zimbabwe remains open for business," he said flanked by tight security in Hwange in the country's west on Wednesday.
ZANU-PF staged a rally in Hwange on Wednesday, the first since the blast, attracting several thousand supporters, but it was not attended by Mnangagwa.
All of Zimbabwe's main political parties signed a pledge on Tuesday agreeing to ensure peaceful elections by observing a code of conduct while campaigning.
Mnangagwa faces the main opposition Movement for Democratic Change (MDC) leader Nelson Chamisa and 21 less well-known candidates in the country's first ballot box test since Mugabe was toppled.
© Agence France-Presse
Africa
» Be a reporter: Write and send your article
» Subscribe for news alert