More gold medals one year away: Seychelles gears up for Indian Ocean Games in Mauritius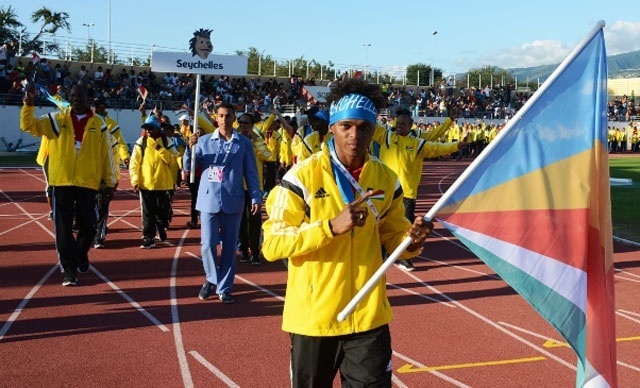 (Patrick Joubert)
Send to Kindle
(Seychelles News Agency) - At this time next year, Seychelles will be joining the other islands in the region for the 10th edition of the Indian Ocean Island Games in Mauritius. Athletes from the island nation have been preparing for the games since the last one in 2015. Seychelles gathered a total of 96 medals including 25 gold, 40 silver and 31 bronze.
The results, however, were below what was anticipated based on the previous games' results in 2011, when the island nation won 123 medals - including an unbeaten 57 gold medals, as it hosted the games for the second time.
SNA looks at the athletes who won the most gold medals in the last Indian Ocean Games in Reunion, a French department in the region.
Alexus Laird – 3 gold medals
Laird, a swimmer, was among the top gold medallists for Seychelles in the last Games. Her best result was in the 50 metre backstroke event as she clocked the fastest time of 29.48 seconds, setting a new Indian Ocean Islands Game record. The 50-metre backstroke specialist who joined the Seagulls Swimming Club in Durban, South Africa last year, will be trying to maintain that feat in Mauritius in 2019. 
(Joe Laurence) Photo License: CC-BY
Clementina Agricole – 3 gold medals
Weightlifter Agricole got her three gold medals in the 65 kg category. She lifted a total weight of 202 kg which was 91 kg in snatch and 111 in clean and jerk. Agricole, who will be participating in the Games next year, has been training in the US through an Olympic scholarship since 2015.
(Louis Toussaint) Photo License: CC-BY
Janet Georges – 3 gold medals
Georges was participating in her fourth IOIG in weightlifting. She also competed in the regional games in 2003 in Mauritius, 2007 in Madagascar and 2011 on home territory. Georges, who was competing in the 75kg category, lifted 85 kg in snatch and 105kg in clean and jerk.
Steven Baccus – 3 gold medals
 Weightlifter Baccus who was competing in his fifth Games, lifted 135kg in snatch and 170kg in clean and jerk to achieve a grand total lift of 350kg emerging as the winner of the 94kg category.
(Parick Joubert) Photo License: CC-BY
Seychelles Buzz
» Be a reporter: Write and send your article
» Subscribe for news alert