Miss Seychelles…..Another World winners aim to be good role model for young people
(Left to Right) Second Princess Marvel Godley, President James Michel, Miss Seychelles Camila Estico and First Princess Lisa Rose during the State House visit (Mervyn Marie, Seychelles News Agency)
Send to Kindle
(Seychelles News Agency) - Young and beautiful, winners of the Seychelles national beauty pageant, with a calendar of promotional activities waiting for them, the three Creole beauties made their way to the State House, to meet the Seychelles President on Thursday.
The 23 year old Miss Seychelles…Another World 2014 winner Camila Estico was excited about her meeting with President James Michel, together with the two runners up in the Seychelles beauty contest, First Princess Lisa Rose and Second Princess Marvel Godley.
According to a press statement from the Seychelles Tourism Board, Estico, who is a trained dancer and is studying for a degree in business studies, said it was 'an honour' for her to meet the head of state.
Miss Seychelles Another World 2014 pictured with President James Michel at State House (Mervyn Marie, Seychelles News Agency) Photo License: CC-BY
"President Michel inspires me in many ways. During the meeting, he told the two princesses and I, that we are now the new ambassadors for Seychelles, and he talked to us on how we have to carry ourselves and represent the country with heart for a year.…To me it was one of the good advice he gave us today, and I am thankful for the words of encouragement we have received as well from him," said Estico.

Estico has a community project to implement ahead of her participation at the Miss World pageant in London this year, which is focused on reducing obesity in the country.
Camila has embarked on a project focussed on reducing obesity in Seychelles (Seychelles Tourism Board) Photo License: CC-BY

The Seychelles beauty queen said the project is on track and that she will be getting support of the Rotary Club Victoria-Coco de Mer, a charitable organization in Seychelles linked to the Rotary Club International.
"I hope that I become a good role model for other young people of Seychelles," she said.

The two runners up in the Seychelles beauty contest will be working on environmental conservation projects on the islands.
"I believe the girls have a positive influence on the society and that this will help in championing causes and making a difference in the communities here," said Sherin Naiken, Chief Executive of the Seychelles Tourism Board in the statement.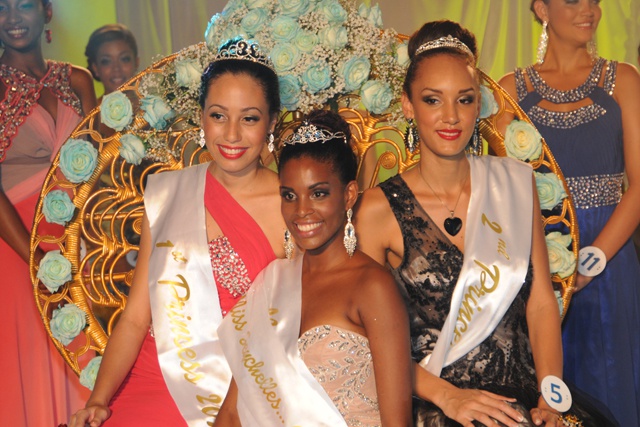 Miss Seychelles Another World 2014 crowning ceremony (Jeona Bonnelame Seychelles News Agency) Photo License: CC-BY

The Seychelles Minister for Tourism and Culture, Alain St Ange, added that Seychelles is 'standing behind their beauty queen, and everyone is wishing her well in the coming Miss World pageant that will be held later this year in London.'
Miss Seychelles will be joining the tourism officials on several promotional tours, such as major tourism trade fairs around the world, to promote the beauty of the Seychelles islands, an archipelago of 115 islands in the Western Indian Ocean.
Camila Estico will be representing the Seychelles at the Miss World pageant in London in November this year (Mervyn Marie, Seychelles News Agency) Photo License: CC-BY
General
» Be a reporter: Write and send your article
» Subscribe for news alert