Singapore says hackers stole 1.5 m health records in record cyberattack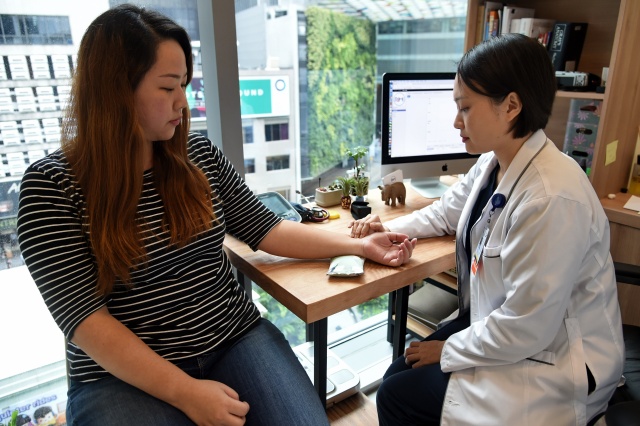 In this photo taken on October 12, 2017, Singaporean physician Calista Lim Hui Min (R) takes the pulse reading of patient Elaine Low, 35, (L) before receiving a massage by a robot masseuse at the NovaHealth traditional chinese medicine (TCM) clinic in Singapore. (ROSLAN RAHMAN / AFP)
Send to Kindle
(AFP) - Hackers have stolen health records belonging to 1.5 million Singaporeans, including Prime Minister Lee Hsien Loong who was specifically targeted in the city state's biggest ever data breach, authorities said Friday.
Singapore's health and information ministries said a government database was broken into in a "deliberate, targeted and well-planned" strike, describing the attack as "unprecedented".
"Attackers specifically and repeatedly targeted the personal particulars and outpatient information of Prime Minister Lee Hsien Loong," health minister Gan Kim Yong told a media conference.
Officials declined to elaborate on the identity of the hackers citing "operational security".
Wealthy Singapore is hyper connected and on a drive to digitise government databases and essential services.
While the city-state has some of the most advanced military weaponry in the region, authorities have long warned of cyber breaches, with attackers ranging from high-school students in their basements to criminals and state-actors.
In 2017, hackers broke into a defence ministry database, stealing the information of some 850 army conscripts and ministry staff.
© Agence France-Presse
General
» Be a reporter: Write and send your article
» Subscribe for news alert