Musician in Seychelles working with students to maintain island drumming traditions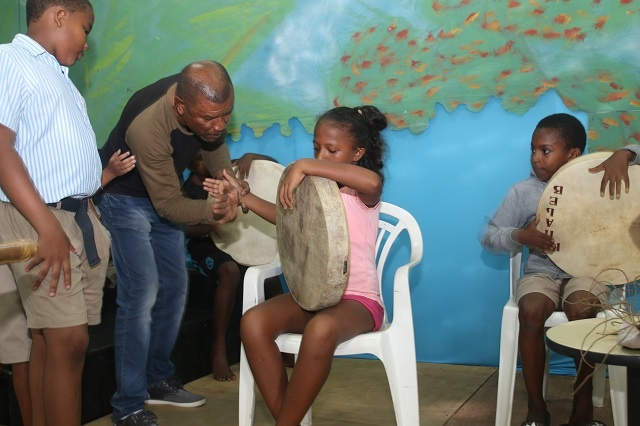 Victor is giving Moutya drums lessons to young boys and girls. (Joe Laurence, Seychelles News Agency) 
Send to Kindle
(Seychelles News Agency) - A renowned Seychellois artist -- Patrick Victor -- is promoting the Creole culture and islands' traditional music by teaching the younger generation.
Victor is giving Moutya drum lessons to young boys and girls interested in learning the traditional music of Seychelles.
Moutya is a style of traditional music that originated in the slavery period. It is played on large flat drums made from goatskin.
The well-known Seychellois artist said, "I work with those kids because they have a purity of mind; they don't believe this is the music of slaves. Moutya is a sacred music." 
Since January, Patrick Victor has been giving music classes to primary students in the four northern Mahe schools. (Joe Laurence, Seychelles News Agency) Photo License: CC-BY
Victor told SNA that he strongly believes in sharing his knowledge with the youth. Since January, he has been giving music classes to primary students in the four northern Mahe schools -- Anse Etoile, Glacis, Beau Vallon and Bel Ombre.  
He said that teaching the students of the Bel Ombre primary school is more intensive as they practice all the different aspects of the Seychelles' culture. As he lives in the Bel Ombre district, Victor said he can spend more time with the students.
In the classes, children are learning about the historical importance of Moutya and the origin of its drums from not only Victor but other visiting historians. They are also learning the three different types of drums based on their dimension and the fabric they are made of and how when harmonised they give the Moutya melody.
SNA met with Victor after a music class with a larger group of students and was introduced to the 12 apprentices who came for extra classes.
Speaking on the students' participation, Victor said, "They are very enthusiastic. They are very eager to learn it well. Some even want their own drum so they can practice at home. I am hoping that after some time I can extend the course and perhaps do a cultural show at school."
Victor who has a vast experience in Creole music said he not only enjoy working with those kids and I but also learn from them (Joe Laurence, Seychelles News Agency) Photo License: CC-BY
He added that students also learn the authentic way of playing the drums, especially how to warm the drums to get the best sound.  
Although he has a vast experience in the Creole music, Victor said, "I had to go back to the community and research some more. I do this with a lot of pleasure. I also enjoy working with those kids and I learn from them." 
Victor is well-known for his patriotic Creole songs and has played a leading role in spreading respect for Seychelles music and culture across the Indian Ocean region.
Among his first songs was a Moutya entitled 'Tanbour Moutya,' Creole for 'Moutya drum.'
Aside from giving Moutya lessons, Victor assists schools with play-acting and learning musical instruments. He also works with them for well know performances such as 'Moman Kreativite' (Creative Moment) which takes place during the Creole festival in October.
Victor believes that working with children is his contribution to what other enthusiasts of the Creole culture are doing to preserve it.
"I am a defender of our culture, values and heritage. I am someone who enjoys sharing, sharing mostly with children because I love their energy. I also share because I feel that my knowledge needs to be transmitted to someone else," he said. 
Seychelles, a group of 115 islands in the western Indian Ocean, is taking measures to establish safeguard measures for the traditional Moutya dance and is working on a nomination dossier for its inscription on UNESCO.
Victor believes that before Seychelles seeks the UNESCO recognition of Moutya, the people need to have a sense of belonging and pride for what is theirs.
Arts & Culture
» Be a reporter: Write and send your article
» Subscribe for news alert