Seychellois children's book author seeks to boost confidence, self-resilience in young readers
Stravens, who currently resides in Canada, is a writer specialising in children's and healthy living books. (Jane Edna Stravens)
Send to Kindle
Some of Seychelle's older residents may remember Jane Stravens as a contestant of the Miss Seychelles beauty pageant held in 1972. With her beauty pageant days long gone, Stravens, who currently resides in Canada, is thriving as a writer and specialising in children's and healthy living books.
SNA interviewed Stravens about her life and work.
SNA: First tell me a bit about your background, your childhood and family.
JES: I had a beautiful and carefree childhood, loved by my parents, sisters. Although my mother was very strict, I felt that she did it for our wellbeing. She also didn't want us hanging around doing nothing, therefore from a very early age, we use to help her by weaving straws for the hats she made. My parents were very religious and every night we prayed together. I'm the second daughter of four girls. My father was a sergeant in the police, so we used to stay in different parts of Seychelles due to his career. It was wonderful! We got to know different places.
SNA: What about your education?
JES: I have furthered my studies in Italy where I lived for a while. I've done my A-Level in graphics and publicity. Then I have worked myself through other degrees - a certificate as Technical Director of Tourism, a degree as Fashion Designer, and a Bachelor's Degree in Theology. Last but not least, without neglecting one of my passions, which is art, I have attended different art Schools, including Brera, which is the Academy of Fine Arts, where I have perfected my drawings and portrait paintings.  
SNA: Career-wise, what are you doing?
JES: Right now I'm dedicating my time focusing mostly on my books. I feel so blessed that I've worked and gained experiences in tourism, modelling, as an interpreter, in public relations, as well as teaching catechism to children preparing them to receive the sacraments and teaching arts as well.
SNA: Tell us about the Miss Seychelles experience, how did that happen? And what changes it has brought to your life?
JES: In 1972, the prizes were great! The idea to travel to one of these places really delighted me, besides, that year, the Seychelles International Airport was officially opened by her majesty Queen Elizabeth II. I have never been on a plane before, therefore I gave it a try. I said that I was 17 years old. That night the ugly duckling had turned into a graceful swan. The worst part of the story was when I told Jack – the local organiser - the next day that I was 16 years old.
Stravens represented Seychelles at the 22nd edition of the Miss World pageant in 1972. (Jane Stravens) Photo License: CC-BY
I remember that he was sweating, saying: "dear me, what to do?" I said: "Let the 2nd one go to England, as for me as long as I go somewhere, I'll be fine." Jack telexed Julia and Eric Morley, the organisers of the Miss World Contest, telling them: "our Miss Seychelles is only 16 years old." They telexed back saying: "We shall be very happy to welcome Jane Stravens as the Miss Seychelles." The Miss Seychelles experience was great especially when I think of it now. Having spent 10 days with the most beautiful girls from the different parts of the world was awesome. The atmosphere was magical, and I have had a wonderful, and priceless time.
SNA: And when did writing start?
JES: I started writing some 20 years ago. I've got eight books on Amazon, and I've got three other books, which I have to translate from Italian to English. "Yes, I Can! – To Think Is To Create", "Penguin Marina's Transformational Journey – Follow Your Dreams", "The True Meaning Of Christmas", "How To Be Useful To Humanity – The Birth Of Silk", "Shirley And Her Friends The Dolphins – Listen To The Silence", "The Enchanted World – How To Pray For What You Want", "The Joy Of Giving – Thy Will Be Done" and "How To Lose Weight Fast And Stay Slim With The Tasty Italian Cuisine."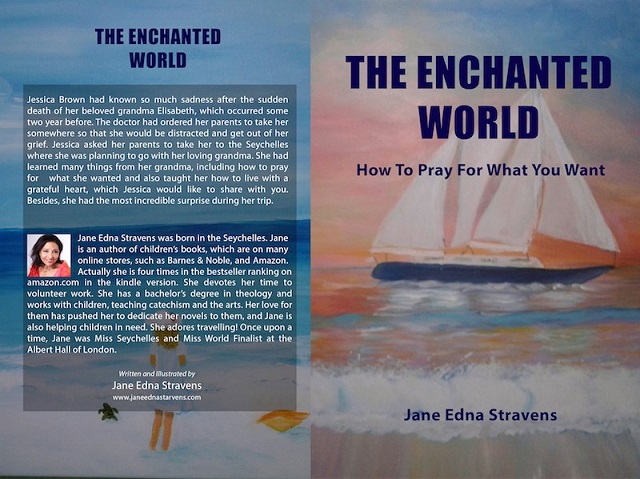 The book Stravens wrote after the death of her grandmother. (Jane Stravens, website) Photo License: CC-BY
SNA: Why have you chosen to write children's books?
JES: I have taught children aged 8 - 12 years, catechism and the arts. Even for a short period of time, I taught children of primary 3 at the Plaisance School, and I do love them. I feel that all my books have trustworthy messages for them, to boost their confidence, and make them more self-resilient so that they may grow to be self-sufficient. Know what they want and go for it, and make the world a better place. I'm sure that grown-ups may enjoy and benefit from them too.
SNA: Tell me about the research involved, or how do you get your inspirations for the story?
JES: Yes, I do some research to make sure that the story fits together. I also use a lot of inspiration and fantasy. Most of the time, my stories start from something true, maybe from a phrase or a sentence which I may have heard on TV or radio. We all need to have goals in life and do our best to achieve them.
SNA: Tell me about your future plans?
JES: My future plans are: to reach out to as many children as possible so that they may read the stories and the messages they contain. My mission is to take care of the less fortunate children. I would like to build homes and schools for them. I would also like to finish the books I'm writing. Finish my "thesis in theology" so that I may obtain a Master's Degree in theology. We are looking into animating my stories of which I've already written the screenplays.
More information on Jane Edna Stravens is available at www.janeednastravens.com 
The Interview
» Be a reporter: Write and send your article
» Subscribe for news alert