Seychelles is 149th country visited by American traveller on a mission to visit 197 countries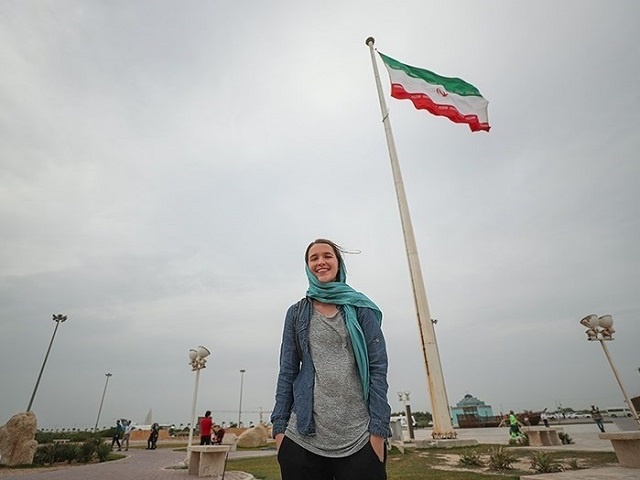 Demonbreun in Kish Island in Iran as part of her world travel in April. (Tasnim News Agency, Wikicommons) Photo License: CC-BY  4.0 International
Send to Kindle
(Seychelles News Agency) - An American whose goal is to visit each of the 197 sovereign countries in the world, and break two world records in the process, was in Seychelles as she visited the 149th country on her list.
Taylor Demonbreun said she is on a mission to visit all the countries in about 400 days. "This will allow me to beat the age record by about a year and the speed record by a few months," said the 22-year-old from Tuscaloosa, Alabama.
Talking to SNA via email, Demonbreun said travelling the world was something she felt was something she was meant to do. Demonbreun, who started her world trek in June last year, explained that her travels are not only about breaking world records and entering the Guinness Book of World Records.
"Throughout this journey, I hope to encourage and inspire as many people who might not previously have travelled to give it a shot. If you think travel is unattainable, too much work, or just not in the cards, I want to help show you how simple it can be," said Demonbreun.
The young woman who is about to graduate from Vanderbilt University with a double major in Economics and Public Policy adds that she is also sending a message to young women around the world.
"To all the young women who've been told that they could not safely travel on their own, I want to challenge this stereotypical notion. Young women can--and should--see as much of the world as they can. I believe that travel is vitally important to shaping one's worldview, so it is important for everyone to get out and learn more about the world that they live in," said Demonbreun.
Stopping in Seychelles -- an archipelago in the western Indian Ocean -- for three days last week, the young American said that she had the best time in the island nation and plans to come back. Adding that seeing and experiencing each countries way of life and culture is something that you can only experience when travelling.
"So my achievement is also about gaining an understanding of the world that you can't receive in the classroom or the office. In addition, I want to develop new relationships with people around the world," adds Demonbreun. 
Taylor's world trek is divided into five segments, Latin America and the Caribbean, Africa, Eastern Europe, Asia Pacific and the Middle East, and Western Europe and other.
To achieve her target of completing her trek by December, Demonbreun said she has to travel at least every 14 days. "In each country, I plan to spend at least a full day of exploring, enough time to see the main sights in the city I am in."
During her trek, Demonbreun travels by planes, trains, buses, and ferries.
The world traveller will now travel to France and her last travel is expected to be to Canada. This is to allow her family to welcome her as she completes her world trek.
Demonbreun said the best countries she has visited so far are Iceland and Singapore - which she described as unique. "Iceland blew me away actually," she said, adding that El Salvador was her worst experience as she was not able to leave her hotel due to safety and security issues.
Demonbreun, who was thinking of a career in investment banking, is now contemplating her career options as through her treks have discovered her true passion -- travelling. 
People
» Be a reporter: Write and send your article
» Subscribe for news alert