Seychelles' president: Mistreatment of workers being addressed; lauds country's financial position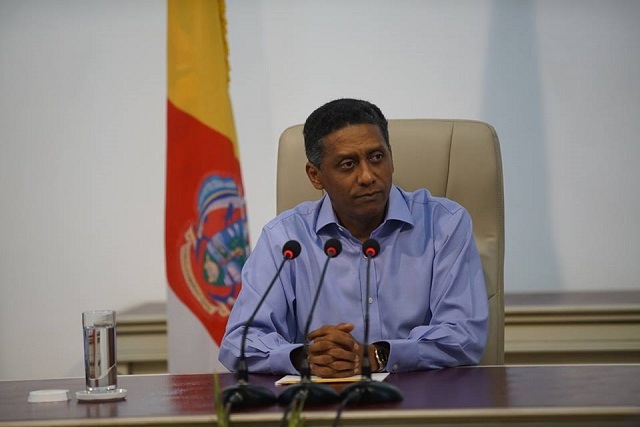 President Danny Faure held his third live press conference for 2018 on Thursday. (State House)
Send to Kindle
(Seychelles News Agency) - President Danny Faure of Seychelles held his third live press conference for 2018 on Thursday evening at State House, Victoria.
SNA brings an overview of the issues raised at the event which was broadcasted live on the Seychelles Broadcasting Corporation national television. 
The condition of foreign workers in the construction industry
Following the outcry from civil society on the plight of foreign workers, especially those from Asian countries working in the construction industry, the issue was one of the first questions the President had to answer.
"We have over 2,500 foreigners employed in the country, 2,769 including companies and individuals. Around nine companies are ill-treating their staff, and that does not mean that all of them are culprits. But it takes only one company to tarnish the country's reputation. However, the concerned ministry is doing its part and taking this issue very seriously. It is strengthening its framework and policies, and if there is the need we will make changes in the law, then we will have to do it."
Economic performance of the country
Faure stated that for the first time ever for the country, $400 million has entered its banking system.
"I am not referring to the Central Bank, as the institution has enough foreign exchange to protect the economy -- foreign exchange which has gone through commercial banks from September 2017 to September 7 this year has amounted to over $400 million. This has never happened in Seychelles. And this reflects the strength of the country's economy as well as all those working in this sector. This is good news. Collectively we have managed to maintain the stability of the country.
Foreigners with Seychellois passports
"On the issue of Tunisian El Materi having a Seychellois passport, I want to make it clear today that it was myself as the president who signed for his passport. I do not know him personally but I did so based on the information I was given about him and the examination I made. I take responsibility for my decision. I know that there are calls to have his passport revoked, but I would like you all to know that this can only be done after an amendment is made to the country's constitution."
"Even if there is a demand to so, I cannot cancel anyone's citizenship unless an amendment is made in the Constitution."
Faure confirmed that he is waiting for such an amendment to revoke the citizenship of Radovan Krejcir, who holds dual citizenship from the Czech Republic and Seychelles. Krejcir is serving a 35-year sentence in South Africa for attempted murder and kidnapping.
Fire incident and sinking of landing craft Sea Horse
"We have sent an official request to the United States, China and France to see if we can get assistance. Responses received so far, China has said that at the depth at which the vessel has sunk, they cannot assist us. The US government has said that all of its resources are deployed outside of the region and it will be in two years' time for this equipment will be available. However, we, have received more positive feedback from France, as such equipment is available but there is some additional information we have to work on. Our wish and that of IDC (Islands Development Company)  is that the ship was there so that an investigation could be done. That this is the current situation."
Assumption
The issue of an Indian Naval base on Assumption, one of the outer islands, which was met with a lot of resistance locally came up again at the press conference, as Faure undertook a state visit in India in June this year.
"I was received by a state and in the context of bilateral, this issue was raised and I addressed the issue. I have also had discussions with the defence and security committee of the National Assembly and the Seychelles People's Defence Forces (SPDF) on the issue of having a security base on the island. We are still in discussion on what size the base should be as there is a general consensus that the SPDF should have a coast guard facility on Assumption. We hope to conclude the discussion before the end of this year where we will provide you with more and detailed information. As for our partner, India, they are ready to help Seychelles with a grant, but as a government, we have decided to go ahead with the facility."  
General
» Be a reporter: Write and send your article
» Subscribe for news alert