Sri Lankan President plans official visit to Seychelles in October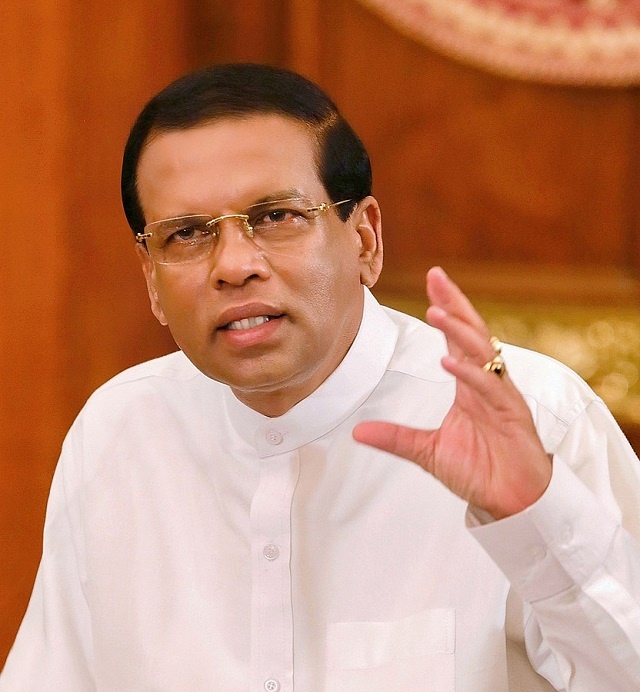 Sri Lankan President Maithripala Sirisena will visit Seychelles in October. (President Media, Wikipedia) Photo License: CC BY-SA 4.0
Send to Kindle
(Seychelles News Agency) - Sri Lankan President Maithripala Sirisena is expected in Seychelles next month on a three-day official visit following an invitation from President Danny Faure, who visited Sri Lanka last year. 
Sirisena will be the second Sri Lankan President to visit the island nation in the western Indian Ocean in the last five years. The President's visit is coinciding with the 30th anniversary of diplomatic relations between Sri Lanka and Seychelles.
Pallewatte Gamaralalage Maithripala Yapa Sirisena, who is the seventh President of Sri Lanka, came into office in January 2015. Sirisena took over the presidency from Mahinda Rajapaksa, who undertook two official visits to the island nation in 2013 and 2014.
During his second visit in June 2014, Rajapaksa opened the Bank of Ceylon, Sri Lanka Insurance, airline office for Mihin Lanka, the Nawaloka Medical Centre and the first Sri Lankan High Commission in Seychelles -- a group of 115 islands in the western Indian Ocean.
The Seychelles' President Danny Faure undertook his first official visit to Sri Lanka in February last year when he invited Sirisena to visit the island nation.  
In Sri Lanka, Faure visited Hemas Hospital in Thalawatugodha and Lanka Hospitals in Colombo – both popular hospitals with Seychellois seeking overseas medical care.
Faure discussed the potential areas of collaboration and affirmed that such collaborations through medical tourism is highly beneficial to Seychelles and discussed possibilities for future areas of cooperation such as in the domain of palliative care.
Sirisena and his delegation are scheduled to visit the island nation from October 8 to October 10. Before assuming the Presidency, Sirisena served as a member of Sri Lanka's parliament where he was first elected in 1989. After parliament Sirisena, who is an agriculturist, also served as a minister where he was responsible for the portfolios for health and agriculture.
Sirisena is the first president to make a state visit to Seychelles since President Danny Faure assumed office in October 2016. The last state visit to the island nation was by Indian Prime Minister, Narendra Modi, in March 2015 at the start of his tour in the Indian Ocean tour. His visit to Seychelles came 34 years after the first visit of Indian Prime Minister Indira Gandhi in 1981. 
General
» Be a reporter: Write and send your article
» Subscribe for news alert