Waiter race? 4 funky activities highlighting tourism in Seychelles
(Seychelles Tourism Board) 
Send to Kindle
(Seychelles News Agency) - To commemorate World Tourism Day on September 27, a one-week tourism festival was organised in Seychelles from September 15 to 22 to celebrate the importance of tourism for the island nation.
It was held under the umbrella of the Seychelles Hotel Tourism Association campaign launched last year entitled 'We are Tourism.'
For this year's edition, the focus was on service and standards and raising awareness on the value and contribution of the tourism as the main pillar of the Seychelles' economy.
SNA brings you four activities organised during the festival.
A race between waiters and waitresses
48 waiters and waitresses from different tourism establishments including two from Praslin as well as the Seychelles Tourism Academy (STA) had the chance to test their ability to race-walk with a loaded tray. The participants had to race-walk 100 metres without spilling the content of the glasses on their tray or dropping the bottle. They had the opportunity to refill their glasses once before reaching the finishing line.
The race walk competition held at the Beau Vallon promenade was aimed at testing their ability to balance a loaded tray.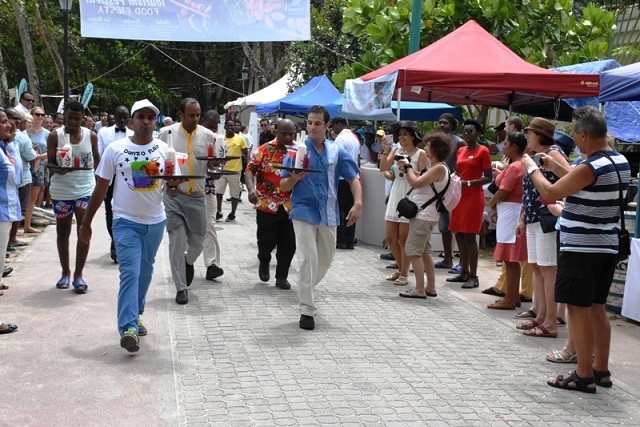 (Seychelles Tourism Board) Photo License: CC-BY
A Food Fiesta
After the race, participants, locals and visitors were able to partake in a food fiesta put up by different hotel establishments at the Beau Vallon beach promenade. It was an opportunity for guests and members of the public to taste a large variety of dishes from different cuisines of various countries with the participation of 12 hotels.
On Praslin, the second-most populated island, seven tourism establishments took part in the food fiesta held at the Berjaya Praslin Beach Hotel beach front. Each establishment showcased a variety of dishes ranging from Mediterranean, Creole, Middle Eastern, Indian and other cuisines, including desserts and cocktails.
(Seychelles Tourism Board) Photo License: CC-BY
Video competition for secondary students
A video competition was organised to encourage secondary school pupils to reflect on the tourism industry and how they can make contributions towards tourism as individuals.  Teams of students were required to submit a short video produced by themselves without any professional help as well as a written document detailing the rationale behind their videos. They had to depict how to encourage tourists to keep returning to Seychelles.
(Seychelles Tourism Board) Photo License: CC-BY
Tourism ball and launching of ocean festival
The week-long tourism festival celebrations came to a close on Saturday evening with a lavish tourism ball at Avani Seychelles Barbarons Resort and Spa. The island's annual tourism ball where Sherin Francis, the chief executive of the Seychelles Tourism Board, used the opportunity to discuss the successes of the industry and analyse the challenges they faced. The ocean festival which celebrates Seychelles maritime heritage was officially launched at the tourism ball. The festival will take place in November.
(Seychelles Tourism Board) Photo License: CC-BY 
Seychelles Buzz
» Be a reporter: Write and send your article
» Subscribe for news alert