Agreement between Air Seychelles and Air India gives travellers more connections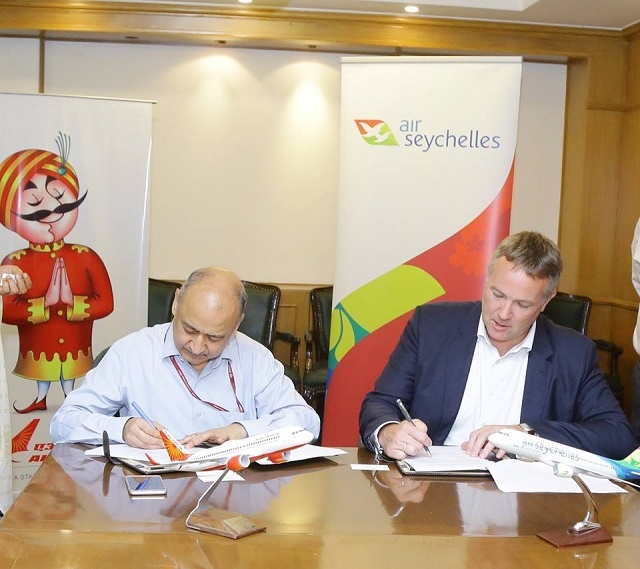 The chief executive of Air Seychelles and the chairman and managing director of Air India signed the codeshare agreement between the two airlines on Thursday. (Air Seychelles)
Send to Kindle
(Seychelles News Agency) - Air Seychelles and Air India are now offering travellers enhanced connections on their respective networks following the signing of a codeshare agreement between the two airlines on Thursday.
The Seychelles' national airline said that under the agreement, Air India will place its "AI" code on Air Seychelles regional services between Mumbai to Seychelles and Johannesburg.
In return, Air Seychelles will place its "HM" code on Air India's domestic services to eight cities -- Ahmedabad, Bangalore, Kolkata, Kochi, Delhi, Hyderabad, Chennai and Trivandrum. The code will also be used on Air India's international services between Mumbai and Bangkok.
At the signing ceremony, the chairman and managing director of Air India, Pradeep Singh Kharola, said, "This partnership with Air Seychelles will enable our customers to have a direct access to this beautiful archipelago in the Indian Ocean."
"Our vast domestic network will ensure a seamless travel experience from all parts of India to the direct flight between Mumbai and Seychelles. We are indeed excited about this alliance," added Kharola.
On his side, Remco Althuis, the chief executive of Air Seychelles said, "India is a very important market for Air Seychelles and we are pleased to grow our commercial ties with Air India as part of our strategy to offer our guests greater choice and connectivity."
He added that "apart from providing services to the beautiful islands of the Seychelles, guests travelling from India can also enjoy seamless connection in less than three hours over the Seychelles to Johannesburg."
Althuis also announced that Air Seychelles will be providing an additional 544 seats per week between Seychelles and Johannesburg as of December 10 to accommodate the growing demand over the upcoming winter and Easter period.
The announcement comes five months after the Seychelles' national carrier said it will increase the frequency of its services between Seychelles and Johannesburg to six flights per week starting last July.
The chief executive, Remco Althuis, had said that "the new service, which will be operated by Airbus A320 aircraft, will provide an additional 252 seats per week between South Africa and our beautiful islands.  In addition, guests looking to travel via Seychelles to Mumbai will be provided with a seamless connectivity of less than 2 hours via Seychelles."
Air Seychelles -- established in 1978 -- currently operates five flights per week between Mumbai and Seychelles on Wednesdays, Thursdays, Fridays, Saturdays and Sundays. It has been serving India's financial, commercial city of Mumbai for nearly four years since the launch of its direct flights in December 2014.
The airline also offers international flights to Abu Dhabi, Johannesburg and Mauritius and offers more than 350 domestic scheduled flights a week throughout the island nation. 
Tourism
» Be a reporter: Write and send your article
» Subscribe for news alert