Comoros forces dismantle 'anti-government' roadblocks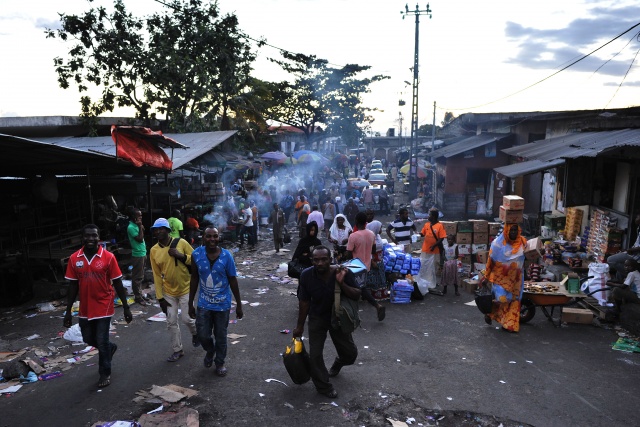 People walk through a market avenue at dusk, in Moroni, capital of the volcanic Comoros archipelago, where results of a controversial constitutional referendum were given today by the President of Comoros' National Electoral Commission (CENI), on July 31, 2018. Voters in the Comoros overwhelmingly backed controversial constitutional reforms that would allow current President of Comoros to run for another term, an electoral official said on July 31, 2018, following a referendum boycotted by the opposition. (TONY KARUMBA / AFP)
Send to Kindle
(AFP) - Security forces in Comoros moved to break up roadblocks, apparently erected by opponents of President Azali Assoumani, across Mutsamudu, the capital of Anjouan Island, on Monday according to witnesses who reported gunfire.
The Indian Ocean archipelago has been rocked by instability since July when Assoumani won a referendum on constitutional changes that includes ending the traditional rotation of the presidency between the country's three main islands after one term.
Assoumani, from Grand Comore island, launched a crackdown on rivals following the poll, which was boycotted by opposition parties and which he won with 92.74 percent support.
No opposition party claimed responsibility for the blockades in Anjouan, in which tree trunks were used to sever main roads, but an AFP correspondent reported that they were thought to have been erected by young people opposed to the president.
"It started around 4:00 am (0100 GMT) and lasted almost three hours, we heard gunshots," said a resident who spoke to AFP by telephone and declined to be named.
Anjouan Island governor Abdou Salami Abdou, member of the opposition Juwa party, confirmed the incidents.
"This has been ongoing since this morning, there is shooting everywhere," he said by phone.
But Interior Minister Mohamed Daoudou blamed Abdou for the unrest.
"The government of Anjouan is responsible... Their people have been clearly, individually identified," he told journalists in Moroni.
"Arresting governor Abdou Salami Abdou is the task of law enforcement."
Daoudou said security forces on the island would be reinforced, accusing the protesters of using firearms but denying that officers opened fire.
There were no reports of any fatalities.
Daoudou also claimed that "boats with armed men" had sailed to Anjouan from the nearby French territory of Mayotte.
Opposition figures targeted in Assoumani's crackdown include former president Abdallah Sambi, who has been charged with corruption. He is the head of the opposition Juwa party and is originally from Anjouan.
Under July's constitutional changes, Assoumani, who previously came to power in a military coup and was elected in 2016, will be able to run for consecutive terms.
He has indicated that he hopes to stage polls next year which would allow him to reset his term limits and theoretically rule until 2029.
His critics have accused him of a "dictatorial power grab".
© Agence France-Presse
Indian Ocean
» Be a reporter: Write and send your article
» Subscribe for news alert