Seychelles' proposed 2019 budget rises 6.6 percent over 2018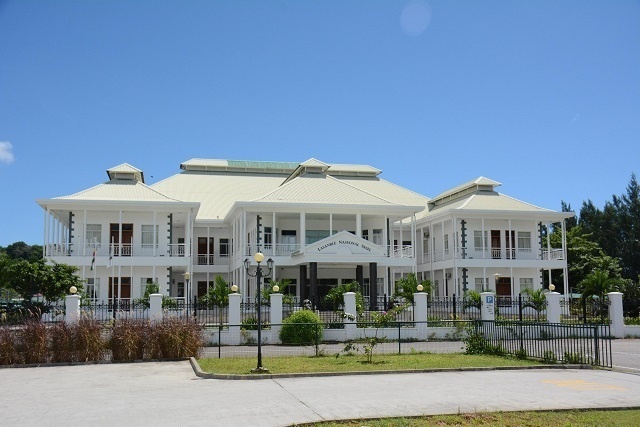 The National Assembly Building. (Joena Meme) 
Send to Kindle
(Seychelles News Agency) - A proposed national budget of nearly SCR 8.5 billion for 2019, an increase of 6.6 percent compared to the 2018 budget, will be presented to the National Assembly for approval on November 6 by the Minister of Finance, Trade, Investment and Economic Planning.
Maurice Loustau-Lalanne will for the first time since he took over the finance portfolio present the budget of SCR 8,463,945,478 for next year ($625 million). The budget allocation for 2018 was SCR 7,951,537,313 ($586 million).
The biggest allocation of the budget -- SCR 1,036,891,000 -- will go towards education: SCR 825,685,000 for the Ministry of Education and Human Resources; SCR 9,013,000 to the Institute of Early Childhood; SCR 3,484,000 Tertiary Education Commission; and SCR198,709,000 Agency for the National Human Resource Development.
The health sector follows with SCR 1,019,147,000, out of which SCR 878,859,000 will be for the Health Care Agency; SCR 77,614,000 for the Ministry of Health; and SCR 62,674,000 for Public Health Authority.
As was the case last year, the proposed national budget which has already been approved by the Cabinet of Ministers will come before the National Assembly earlier than previous years.
This is done to give Members of the National Assembly time to give their reactions to the proposed budget and to call in heads of ministries and institutions to give details on their planned expenditures.
General
» Be a reporter: Write and send your article
» Subscribe for news alert