Seychelles to test disaster preparedness in September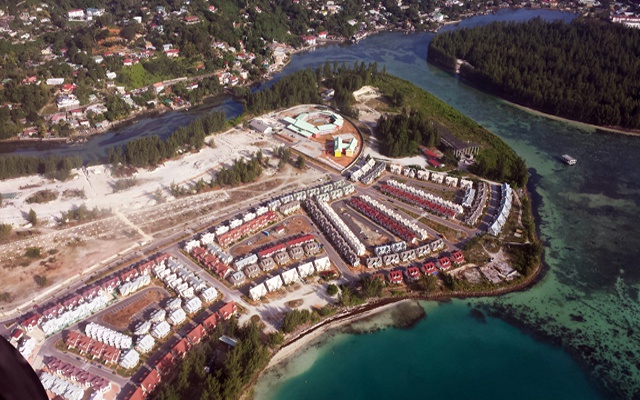 Aerial Shot Seychelles islands - The Indian Ocean archipelago will join regional countries to test how prepared it is to deal with a tsunami 10 years after it was affected by such a disaster (Romano Laurence, Seychelles News Agency)
Send to Kindle
(Seychelles News Agency) - A decade after the 2004 tsunami, Seychelles will be joining other countries in the Indian Ocean basin to participate in the Indian Ocean Wave Exercise or IOWAVE14 to mark the tenth anniversary since the disaster.
This was decided recently during the 9th session of the Intergovernmental Coordination Group for the Indian Ocean Tsunami Warning and Mitigation System, which was held in Jakarta, Indonesia.
Planned for next month, the exercise will involve a tsunamis alert which will be given following a simulated earthquake firstly in Java, Indonesia. A second alert will be raised the second day, this time with a 'simulated' earthquake that will occur in the Makran Trench, south of Iran and Pakistan.
The Indian Ocean countries involved were able to review the planned exercise during an intercessional meeting held in Hyderabad, India, earlier this year.
A village near the coast of Sumatra, Indonesia lays in ruin after the Tsunami that struck South East Asia January 2, 2005 (US Navy Photo/Wikimedia) Photo License: CC-BY
According to the Information and Communication Officer in the Division for Risk and Disaster Management, DRDM, Regina Prosper, Seychelles is expecting to play an important role in this event as it will mark the tenth anniversary of the first major tsunamis event experienced by the Indian Ocean archipelago.
"All the agencies and partners will use this exercise in order to test their standard operating procedures which have been designed for response within and between organisations. A specific area or areas will be chosen for the exercise and we will use our alert systems and equipment and we hope that each partners will be able to coordinate their own evacuation plans using designated routes and assembly point or shelters," Prosper told SNA.
Surely no one has forgotten when almost all of the granitic islands in the archipelago felt the aftermath of the earthquake which struck the Aceh Province in Indonesia on December 26, 2004. A tsunami that followed reached the coasts of most landmasses bordering the Indian Ocean, including Seychelles.
Some 230,000 people from around 14 countries were killed in the disaster.
Seychelles lost 3 of its citizens in the tsunami which left many people in distress for several days as bridges and roads were severely damaged, homes and infrastructures along the coastal areas were flooded and an important record of properties were sucked out to sea by the waves.
Damaged bridge and boat washed ashore in Seychelles following the tsunami in 2004 (Seychelles Nation) Photo License: CC-BY-NC
In spite of being considered one of the safest countries in the Indian Ocean due to its geographical position and geology, Seychelles, has had its share of disasters that have highlighted the need for prevention and preparative measures.
The worst disaster dates back to 1862 precisely on October 12, when torrential rain caused a landslide which saw raging floods of mud and swirling waters cover a large area of the Seychelles capital of Victoria destroying houses, roads and bridges as well as costing the lives of at least 25 men, 27 women and 23 children according to archive records.
While such disastrous event of that magnitude has not reoccurred in recent years the Indian Ocean island nation has experienced minor disasters.
Severe flooding and landslides are often felt in low lying areas during periods of heavy rainfall as was the case in January this year.
Disaster preparedness - A national business
Created in the aftermath of the 2004 tsunami, the Division for Risk and Disaster Management, DRDM, an independent entity which falls under the Ministry of Environment and Energy has as its prime functions the four phases of the Disaster Management Continuum which are preparedness, prevention, response and recovery. 
Prosper noted that Seychelles has come a long way in taking disaster prevention and preparation measures.
"Most of our key partners such as Red Cross, Fire and Rescue services, etc have a well-designed plan for such scenarios and their staff have received relevant training over the past ten years," she said while not stopping short of admitting that much still needs to be done in order to achieve 100 percent emergency preparedness and management in the country.
File Photo: Flooding in the Seychelles capital of Victoria following heavy rainfall - DRDM says Seychelles has come a long way in taking disaster prevention and preparation measures.(Seychelles Nation) (Seychelles Nation) Photo License: CC-BY-NC
The division is therefore working closely with the most vulnerable groups in the community to be better prepared to respond to disasters which includes the public and private schools.
Most of the thirty six public and private schools in Seychelles have an average population of over five hundred students each and lack the human resources capacity to cater for disasters on a large scale.
Prosper said that in order to help them DRDM has initiated a national program for 'Schools Emergency Preparedness and Management'.
"We have first introduced the programme to the management levels of the schools. We have also visited them and assess what they have in place and how best we could assist and support them."
She added that currently regular visits are conducted at the various schools around the country.
"We want the schools and their staff to be committed to any emergency plans so that lives of children of Seychelles could be saved in any emergency situation and if there is tsunami for example.'
Drill exercises are conducted at school level at least three times a year. In addition some schools especially those located near the coastal areas, are also involved in national simulation exercises such as the Indian Ocean Wave simulation which will take place next month.
Following the tsunami simulation in September an evaluation exercise will be conducted locally and internationally to assess Seychelles' and other Indian Ocean countries preparedness if ever they are faced with another tsunami.
General
» Be a reporter: Write and send your article
» Subscribe for news alert